Nikita Review: Bow Down Before Shadow Walker!
by Carla Day at .
After last Friday's highly emotional Nikita and Michael episode, we got a closer look into Birkhoff and the core crew of Team Nikita in "Shadow Walker."
It's been a while since Nikita, Michael, Alex and Birkhoff all worked as closely together as they did on this mission. It was a reminder of how important each of them are to the group. When Birkhoff took off, the team was off-balance, even though Alex did fill in remarkably well.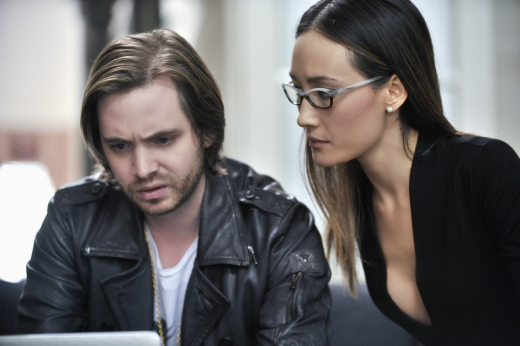 How did any of them think taking $20 million of untraceable funds to the money man was a good idea? And then to accept that the guy scanned the bonds and was able to turn them into cash? While this set-up was a bit ridiculous, I was able to overlook that because, overall, it was an entertaining and action-packed episode.

After the heart-wrenching Nikita and Michael scene in "Wrath," the emotional ties were further established between the other team members. Alex has struggled to connect with people since she escaped death as a child. Michael's encouragement that she could find love was touching.

Her relationship with Sean has been building all season; is he the match for her? Or will she find love in a less expected place with Birkhoff? I've been looking forward to a Alex-Sean romance all season, but a relationship with Birkhoff would be filled with more laughs and fun. After this episode, I may have shifted to favor a romance with Birkhoff. He has matured to the point where it could work.

Since leaving Division, each of the team members has opened up emotionally. That is probably the biggest change of the season. It's not the power struggles that have made the show this year, but the characters and their growing reliance on each other. They have moved from a team fighting a common enemy to a family. That has never been more evident.

The situation between Nikita and Birkhoff was nothing more than a family squabble. He was upset, rightly so, that his money was lost and acted out. His childish rebellion caused him to be reckless and arrested. But Nikita's first priority was to get him out of jail.

Birkhoff's hesitation in shooting to protect Nikita was overcome at the police station when it counted the most. Their heart-to-heart after that rescue was so full respect and love. How was Birkhoff supposed to go to her for comfort after killing someone she loved? Now that the air is clear, they are closer than ever.

While Birkhoff didn't get his money back, the outcome was precious. It's too bad that Michael couldn't see Percy's face as all his money blew up and burned away. What a face it was! Birkhoff may have lost his money, but it hurt Percy much more than him.

Plus, Team Nikita is a family! Alex was right there to give Birkhoff a new bankroll.

Percy isn't one to give up easily. Who was that mystery man at the end? Is there going to be a new player in this covert war going on? Percy, Amanda, Ari, and now a new foe? Plus, don't forget that Percy has the plutonium.

With only three episodes left in the season, it looks like it will be an adventure all the way to the end!

Who should Alex be with? The steady and reliable military man, Sean? Or the quirky and fun computer guy, Birkhoff?

And, don't forget to check out the Nikita quotes section for some of the episode's best moments.

Carla Day is a staff writer for TV Fanatic. Follow her on Twitter and on Google+.

Tags: Nikita, Reviews
From Around the Web