It's been nearly a month since we've seen the Seaside Wellness doctors, but the wait is almost over. Private Practice finally returns next week on ABC, airing on its new night, Tuesday, April 17.
The most recent heart-wrenching installment left plenty of fans with empty Kleenex boxes as Erica's condition rapidly worsened and Mason ran to Charlotte, breaking down after saying goodbye to his mother.
How has Mason and Erica forever changed Charlotte? What is it like to go through the huge transition of becoming a mother as an actress? And can we look forward to even more emotionally-packed episodes?
Dr. Charlotte King herself, KaDee Strickland, spoke with TV Fanatic about all this and more.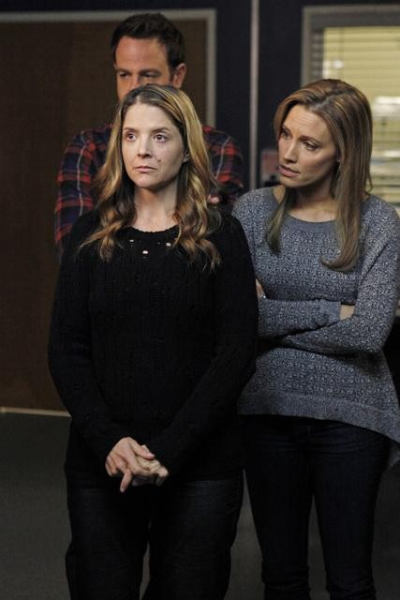 This season, Charlotte has struggled to connect and comfort her stepson during a very difficult time with Mason, while Strickland (above, right) has taken on a new and defining role as an actress.

She had nothing but kind words to say about Griffin Gluck, who portrays Mason, and even credited A.J. Langer (above, left), who plays Erica, for her talent.  

"It's pretty easy because the relationship with that child is so fueled by how much I adore him in real life. Griffin is really easy to work with," she said. "He's so talented and he's so present."

"He has a very special heart. He is just delightful to work with, and we have good rhythm. And I certainly loved working with both Griffin and A.J. Langer. They're such a believable family."

Strickland also commented on enjoying every bit of her character building an unconventional family and interesting relationship with Erica. She noted how natural their relationships were and how incredible of an experience it was to take on such an unexpected storyline.

What does the actress believe keeps CharCoop together through the best and worst of times?

"I think there is a genuine love established between these characters," she said. "I think that they really defined that last year when I was sexually assaulted and he stayed there with me through thick and thin."

"I think that really made a very definitive announcement to the audience of what kind of love these two people have between them. I see that this was also really revisited and recreated this year with me standing by him. In a way, Mason is just an extension of Cooper. And I love him so much that naturally I'm inclined to love this boy."

With Amelia expecting and word on the street about Addison becoming a mother soon, I asked if she hoped her character would eventually catch baby fever as well.

"Totally! I would love to see season six have Charlotte as pregnant as can be. It would be so fun!" exclaimed Strickland.

With only a handful of episodes left in this season, Strickland promised that the remaining installments would be much more than just tearjerkers. She said viewers should be prepared for every emotion from joyful moments to even unfortunate situations to come.

"That's what our show does best – is take you on the Shondaland rollercoaster. And we won't disappoint in that area because the last episode you saw air was incredibly heartbreaking, and the buck won't stop there. I can promise you that," the actress said.

Overall, Strickland clearly loves the direction of her character and is very pleased with her storyline. She also looks forward to whatever the writers hand her way.

"I love that they (the writers) have given me this story after last year. I certainly had no idea they would give me an experience as pivotal or as much of a revelation for the character to change and grow from," she said.

"I would personally love to see Charlotte get pregnant. I think that would be really interesting and fun, but at the same time whatever they (the writers) give me, I'm sure is going to be a very well-intended exploration and won't be dull. I look forward to seeing what that will shape up to be once we find out we've got another season."

Don't forget to tune in to Private Practice on Tuesday night and then return to TV Fanatic shortly after for our official review!

Tags: Private Practice, Exclusives, Interviews, KaDee Strickland