Survivor Review: Troyzan, The Ultimate Terror
by Dan Forcella at .
Troyzan was on a war path as Survivor went from nine to eight this week, and it was not only because he won the immunity challenge. He was also responsible for some extremely entertaining trash talk - and for causing a very strange vote at tribal council.
After Jay was voted out last Wednesday, and Troy realized he had been lied to and was all alone in the game, he kind of lost it a bit in "I'm No Dummy." He took on a "me against the world" ideology, and took out a lot of his frustrations against those that wronged him most.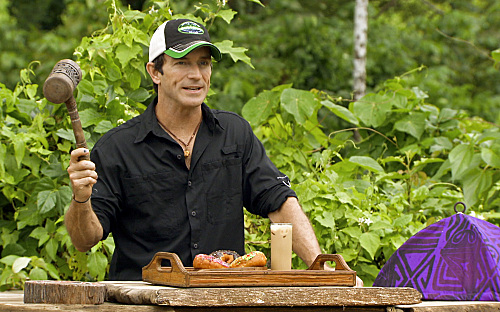 The first way he got back at the ladies of Survivor was by winning immunity and forcing them to eliminate a weaker competitor in Leif. Troyzan helped his cause in the competition by refusing to play the Reward Auction with either his heart or his stomach, but rather his brain.

He passed on a number of delicious food items, and a letter from home, in order to wait on an advantage in the challenge that he highly suspected was coming. Although he naively didn't just bid $500 immediately, Troyzan finally outbid Christina (and the entire group goading her on) with $420.

His advantage was crucial, but he still had a lot of work to do after picking up a bye to round two. Against this group of misfits, I wasn't surprised at all that he came away victorious.  Come on, Tarzan came in second for crying out loud. I was, however, surprised at the berating he did of his fellow survivors.

I don't take issue with it at all. He was just talking smack, and he was on the outs anyway, so for me it was just pure entertainment. Between "This is myyyy island," "I've been going 50 percent," and telling them all not to f*ck with him, Troyzan was on fire.

Once he had the necklace on things started to get very interesting. Troy thought of the standard but smart plan of trying to get the bottom half of the tribe to rise up against the top half, and many of the survivors seemed receptive to it.

Why it didn't work I have no idea. What did Tarzan and Christina have to gain by not taking Troy up on his plan?  Was it that they couldn't trust him? Well, even if he wouldn't have stayed on their team - which I don't see why he wouldn't have - it still would have been even numbers at four to four.

Unless either has a secret alliance going on, they are the next two to go after Leif, and for all they knew, it could have been one of them going home this week. Why are contestants on these shows always so afraid to make the big move? They even talked the entire situation out at tribal council! How did they not realize that the plan being explained in detail right in front of their faces was the best move for them?

So how did we get a 4-3-2 vote between Leif, Tarzan, and Kim? Well, Troy and Leif voted for Kim, and that makes sense. Sabrina, Kat, Chelsea and Tarzan voted for Leif, while Kim, Alicia, and Christina voted for Tarzan. Were none of these people talking to each other?  Did they all just go in blind? Why was Kim not voting with Chelsea, Sabrina, and Kat?

These women might be controlling this game, but they don't seem to be very composed in doing so. Troyzan, in all his hysteria, seems to have them rattled. All I can hope for is that Troyzan wins a few more times, and can convince somebody to align with him near the end. It won't be very entertaining without him.

What about you all?  What did you think of "I'm No Dummy?" Were you rooting for Troyzan, or are you sick of his attitude? If you were in the bottom half of the tribe, would you have voted with Troyzan? And most importantly, which food item would you have bid on in the auction?

Dan Forcella is a TV Fanatic Staff Writer. Follow him on Twitter.

Tags: Survivor, Reviews
From Around the Web