There's no enemy more dangerous than a former friend. Hopefully that's a lesson that Riley has learned after a little "Tough Love."
Everything's going great at work. The clients like Riley. The girls like Riley and Georgia likes Riley enough to make her the new manager. Well, nothing will turn friends into enemies quicker than a promotion and good pal Selena didn't waste any time stabbing the knife into Riley's back.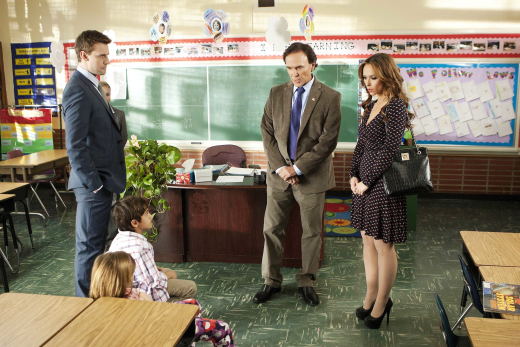 I'll admit that I thought Riley was asking for trouble when she told Selena couldn't take on outside clients. Yes, it was absolutely stupid of Selena to do it. It's dangerous for the spa and for her personally but Selena's not a girl who thinks things through a lot.
Plus, there was really no way for Riley to enforce the order. Yeah, she could tell Georgia and get Selena fired but that could lead to a whole mess of trouble. Selena's a loose cannon and I have no doubt she'll be stirring up more trouble soon.
Georgia certainly showed that she's strong enough to run this operation, as she told off Don when he threatened her. As she said in this The Client List quote:
Man needs to learn not to go digging up more snakes than he can kill. | permalink
And Georgia's not going down without a fight. Don't let the sweet Southern accent fool you. The claws come out when you cross her.

On a side note, I loved the sexy business woman lingerie Riley wore when she was with Don. They should really have a buy it here section on the show's website.

Something felt off about Linette's new beau, Garrett. Did anyone else think he was going to show up at The Rub as a special client? I hope not for Linette's sake but it wouldn't surprise me. They guy just seemed too good to be true.

Little Katie just about broke my heart. Daddy's gone and she's acting out. The funniest part was when she slammed the door on Zach and his Dad. The last thing you'd want is your enemy from school showing up at your home.

Thank goodness Riley finally told the kids the truth. They had the right to know, even though it won't make things any easier.

So Kyle took off to Mexico. Why? Was he running to something like a job or a girl or was he running from something? Did Kyle simply lose it and run out on his family or is there more to that story?

I have no doubt that Kyle will pop up again at the most inopportune moment, but how long do you think it will be before Evan breaks down and makes a move on Riley? And does anyone else agree with me about Garrett or I am just a distrusting soul?

C. Orlando is a TV Fanatic Staff Writer. Follow her on Twitter.

Tags: Reviews, The Client List