The Voice's Quarterfinals continued this week, as Team Adam and Team Cee Lo were a bit of a disappointment in comparison to last Monday's competitors. Thankfully, one young lady - Juliet Simms - stood out from the crowd, putting on yet another fantastic performance.
Other than the coaches wasting a ridiculous amount of time laughing about passed gas, and nobody telling Jamar's mom to take the gum out of her mouth before going on live television, there weren't a lot of extracurricular activities going on, so let's get to the performances...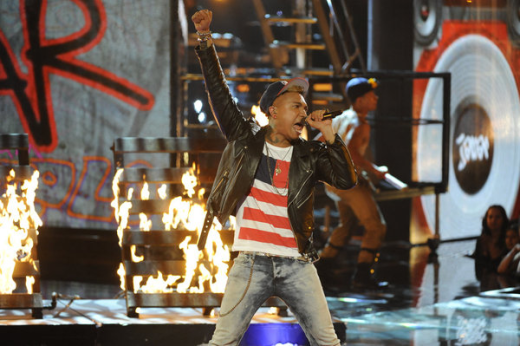 Jamar Rogers - "It's My Life"
They really dug even deeper into the emotion of Jamar's HIV status before the performance, and he certainly allowed some of his feelings to shine through on stage, but this wasn't my favorite of Jamar's. He hit all the notes, but nothing about his performance was special, especially the strange fire people on stage behind him.
Adam thought Jamar was amazing. Blake said the pairing of the song and the person was perfect. Christina liked that he sang with his life on the line, and she's rooting for him. Cee Lo told Jamar that he is such a strong spirit, and that he would die with him.
Grade: B
Katrina Parker - "Jar of Hearts"
Well she started great in the lower register, but when she got going, Katrina sounded a bit off at times. She certainly had some had good moments, and showed a great deal of emotion, but I think this one got away from her too many times. Adam wanted her to hit that note at the end, and unfortunately, she kind of played it safe.
Blake said it was a break out performance, and it sounded like she was different from anybody else. Christina thought it was beautiful. Cee Lo said it was like seeing and hearing her for the first time. Adam said Katrina has one of the best voices on his team, and it was flawless.
Grade: C+
Mathai - "I'm Like a Bird"
The entire video intro made it seem like Mathai didn't want to sing Adam's terrible song choice, and her performance showed it. The song was just too big for her in every facet. The notes, the scope, everything didn't really fit her, and then she ended up sounding off for the whole thing. I love her voice, so it's a shame it was a bit wasted here.
Blake could have done without Captain America in the background. Christina didn't feel like Mathai connected with the song, and it felt force fed. Adam thought it was great, but the dude in the back bummed him out.
Grade: C-
James Massone - "Just The Way You Are"
I hate to say it, but I really enjoyed this. Unlike Mathai, James chose a song that didn't highlight his lack of a powerful voice. His smooth stylings were showcased really well here, and he added a couple of subtle runs to give it his own style. You also have to give James credit for sticking with the whole varsity jacket thing as a trademark. It's lame, but it's a shtick.
Blake didn't know how he felt about the performance. Christina said James had a special voice, but she wanted something a little different. Adam loved it a lot, and Cee Lo thought that James was natural.
Grade: B+
Tony Lucca - "Hit Me Baby One More Time"
When Adam and Tony first started talking about taking it back to his roots, I thought he might be performing this little number. His choice of a Britney song was equally as interesting, and damn it if I didn't respect them for both the decision and the rearrangement of the number.  Unfortunately the amazement ended there as there was once again nothing show stopping about Tony's vocal here.
Christina said that she wanted to have a real Mickey Mouse Club reunion and that she thoroughly enjoyed it. Blake thought it was a really smart choice. Adam loved that they stared down his roots, and he was so proud of Tony.
Grade: B+
Cheesa - "I Have Nothing"
She may have missed a couple of notes, but that was surprisingly much better than I was expecting it to be. As the cliché goes, you never take on Whitney. When you sing in nearly the same fashion, it is extremely difficult to come close to the original. Cheeeee-eeeeese did hit some big notes along the way, and did a pretty darn good job, but it was still so far below what we're used to hearing on that record that it is hard to get too excited about it.
Christina applauded Cheesa for her courage, and said Team Cee Lo is where it's at. Coach Cee Lo said that she did such a wonderful job, and that he is so excited about her.
Grade: C+
Pip - "Somewhere Only We Know"
The beginning of this performance was fantastic. His time on the piano was filled with the more tender moments, including his first adventure with the falsetto, and it all worked really well. Once he stood up and picked the beat up, it felt like he lost the song a bit. It was going decently up to the point that he went back into the falsetto at the end. That sounded horrid. Also, without the bow tie, it felt like he could actually be a star.
Blake thought it was going good until the end, and wanted to know where the bow tie went. Coach Adam thought there were a couple of moments that weren't perfect, but said it was a sweet song and he was proud of him.
Grade: B-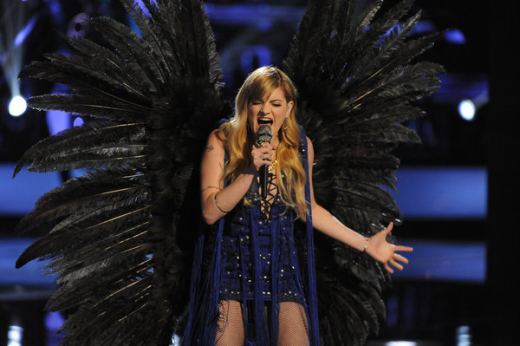 Juliet Simms - "Crying"
There is just something about this girl that has me on the edge of my seat and holding my breath through every second of every performance. Like last week, she rocked this song the heck out, and I loved every second of it. Whether you enjoy her type of music or not, there is no denying that Juliet not only has talent, but that certain quality that makes us all want to see more. The wings were a bit much, but she's strange, that is going to happen from time to time.

Blake said Juliet sounded great and it reminded him of duck season. Christina thought loved that she gives it all that she has. Cee Lo called her a bunch or weird nicknames, including his little "red corvette." Then he said everyone was rooting for her.
Grade: A+

Team Cee Lo Results
In a strange turn of events, the little big man read a letter to his team off of his smart phone. He then decided to eliminate James Massone. While I don't hate the decision, I definitely would have kept James over Cheesa. Juliet and Jamar were locks to stay, so the fact that James's voice really wasn't going to allow him to go much further in the competition was as good enough reason as any.

Team Adam Results
Adam rambled on for a while without anything written down in front of him, and then eliminated Pip. Other than Tony, any of these contestants could have gone home for all I cared. Mathai was my least favorite of the night, but the best of the group last week, so it made for a difficult decision. Adam's team has ended up being pretty weak overall this year.

So on Tuesday night we will find out which team member from each group received the most votes from America, and then one more from Team Adam and Team Cee Lo will be heading home.

Relive the night's action in our The Voice pictures and The Voice quotes sections, and then tell us who you think was the best of the night in the poll below...

Dan Forcella is a TV Fanatic Staff Writer. Follow him on Twitter.

Tags: The Voice, Reviews