It looks like I got out just in time.
After nearly three seasons of reviewing Glee, I handed the job over to staff writer Miranda Wicker for last night's new episode, "Choke." How come? Readers had, understandably, grown tired of my repetitive criticism of the show I once loved - and, to be honest, I had grown tired of writing the same thing on a weekly basis.
Storylines come out of nowhere. Characters are underdeveloped. Episodes have been replaced by Public Service Announcements, and sloppy ones at that. Blah. Blah. Blah.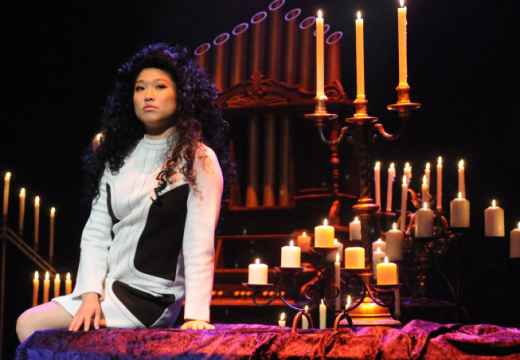 What does this photo have to do with domestic violence? Nothing. Exactly.

Now, after watching the episode and reading various opinions online, it's clear nothing has changed.. except the depths to which Glee has now plummeted as the result of a domestic violence storyline that was given woefully, insultingly short shrift.

Topics don't get much more serious than this, yet Glee treated Coach Beiste's black eye as nothing more than a C-plot, pompously thinking that merely touching on the issue should earn the series credit, a theme we've witnessed throughout season three, as Glee has dedicated bits of time to suicide (Karofsky), intolerance (Santana's grandmother) religion (Joe) and texting while driving (Quinn).

At best, the handling of these storylines is tone deaf. At worst, it's incomprehensibly degrading to those who have suffered through these situations.

I am far from alone in this assessment. Critics around the Internet have come down harder on this episode than any in recent memory:

You can't demand we take seriously the issue of domestic violence then crack dubious jokes about its burly victim in the same breath. Especially just because she's burly, writes Michael Slezak of TV Line.

Choke is a morally reprehensible hour of television, one from which the show may never fully recover. Glee can't have it every which way when the subject matter is this serious. It just can't. The show did a serious disservice to an important cause... Instead of patting itself on the back for daring to bring up the issue at all, Glee needed to think long and hard about what it wanted to accomplish long before it ever made it onscreen, writes Ryan McGee of HitFix.

The problem is that Glee has bought into the myth of its own importance so thoroughly that it thinks raising an issue, then explaining what you should do in that situation, then going off to have Puck draw awesome rocker demons on his history final, is an adequate way to discuss serious topics… You can't just unlock Pandora's Box and pretend it's all good. You have to be prepared to deal with what you unleash, writes Todd VanDerWerff of AV Club.

These are just a few of the critical takes. What is YOUR take? Did Glee mishandle the topic of domestic violence?

Matt Richenthal is the Editor in Chief of TV Fanatic. Follow him on Twitter and on Google+.

Tags: Glee, Commentary