Another Thursday night, another American Idol elimination.
These are getting harder and harder to introduce because it's getting harder and harder to predict who will stay and who will go. At this point, it seems like any of these contestants could win. Except, you know, only one of them can.
Carrie Underwood and Coldplay are in the theater tonight to give the contestants a master class in live performance. Jimmy's also here to give us his feedback on
last night's performances
.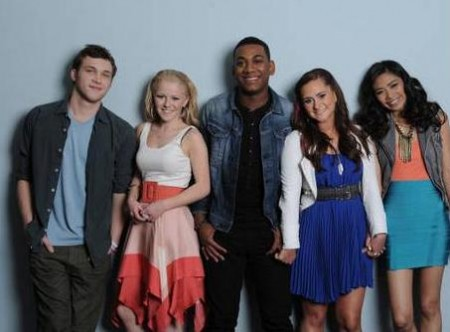 Instead of leading with a cheesy group sing or the Ford commercial, Ryan takes us straight to the results.

Joshua Ledet will learn his fate first. Jimmy called Joshua's first song "fantastic" and said his performance of "To Love Somebody" was the best performance he's ever heard on Idol. Last night, I finally "got" Joshua. Ryan asked him what kind of album he'd make and he answered music that speaks to people and not necessarily what you'd hear on the radio.

It's no surprise that he's safe.

Coldplay performs their current hit "Paradise." This band is on my list concerts to attend before I die. They're fantastic. I only wish Colton were still around to see them because this is the kind of music I could see him making.

Hollie Cavanagh and Phillip Phillips are up next. Jimmy thought Hollie did a great job on "River Deep, Mountain High" because she didn't go into the performance thinking she would out-do Tina Turner. He thought her second performance was confident, but not fantastic. Jimmy called Phillip's songs from last night "bland" and thinks he should be in tonight's bottom two. I think Jimmy hit on the difference between Hollie and Jessica last night. Both of them did Tina Turner songs for Round One. Only one of them got overconfident, and it wasn't Hollie. As for Phillip, his songs last night weren't my favorites, but I didn't think they were as bad as Jimmy did.

Hollie's in the bottom two, which isn't surprising given her series of bad weeks leading up to this one. Phillip is safe.

It's been seven years since Carrie Underwood took home the Idol crown. She's back tonight and, as usual, she looks great. She sounds great, too. She's performing "Blown Away," the title track from her upcoming album of the same name. It's country in that it tells a story, but it's surprisingly un-country in sound.

Skylar Laine and Jessica Sanchez are up last. Jimmy calls Skylar a fighter and says she was exciting even if she didn't seem to really understand the lyrics to "Fortunate One." He also disagreed with Jennifer about Skylar's interpretation of "You Don't Have to Say You Love Me." While Jennifer thought it could win the competition, Jimmy thought it was confused. He loved every part of Jessica's "You Are So Beautiful" and called "Proud Mary" a "travesty." He said her dress was too mature for a 16 year old. High-five to Jimmy for making that comment. She's 16 and that dress was too tight and too short! But about the singing, I agree with him that last night wasn't Skylar's best. Not by a long shot. I wasn't as impressed with Jessica's second number as he was.

Jessica's safe. Skylar's in the bottom two with Hollie.

Before we can find out which girl will be leaving us, Coldplay is back with "Every Teardrop Is A Waterfall." First, it's another flawless performance. Second, I would NOT want to be on the clean-up crew inside that theater after all the confetti they just dumped all over the place.

Randy's reaction to the bottom two of Hollie and Skylar is to compliment everyone and say they both sang their faces off last night. J.Lo said it's hard to lose anybody. Steven's final thoughts are that we're "experiencing and feeling" these contestants. Mark, in for Keiran, has dimmed the lights.

After nearly 60 million votes, Skylar Laine is going home. She does a reprisal of "Gunpowder and Lead" as her closing number and reminds us who she wants to be as an artist. I have no doubt we'll see her back on this stage in the future.

Were you shocked that Skylar was eliminated tonight? Of the remaining four contestants, who do you want to see win?

Miranda Wicker is a Staff Writer for TV Fanatic. Follow her on Twitter.

Tags: American Idol, Reviews