American Idol Results: The Season 11 Winner Is...
by Miranda Wicker at .
The American Idol journey for Phillip Phillips and Jessica Sanchez ends tonight. At the time the finale started, nearly 3,000 TV Fanatics had voted in our Face-Off and y'all have Jessica winning by a narrow margin.
Let's see if you got it right.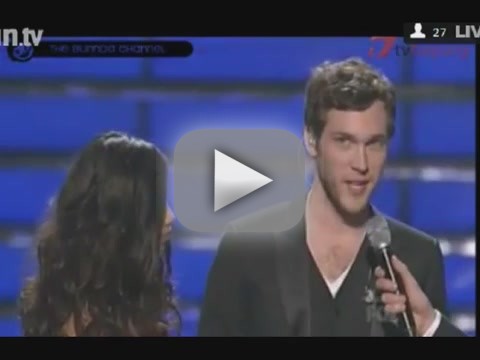 The 10 castoffs open the night with "Runaway Baby" by Bruno Mars. Man, there was a whole lot of talent in this season's contestants. This is easily one of the best group numbers I've ever seen on this show and I'm almost never a fan of the group sings. I even feel like there's more choreography than we've seen in years. Dare I say it, I think this tour will be a fun one.

In Phillip Phillips' first performance of the night, he's teaming up with John Fogerty from CCR for "Have You Ever Seen the Rain" and "Bad Moon Rising." The performances aren't spectacular, but Carrie Underwood's in the audience singing along with them. Here's the thing I like about Phillip - he's genuinely having fun up there. He's taken this competition seriously, yes, but not so seriously that he's allowed it to ever stop him from enjoying himself. He makes decisions and sticks with them and even if things don't go well, he seems to make the best of it. If anyone is going to survive in an industry as cutthroat as music, that sort of personality will certainly be an asset.

Joshua Ledet sang Elton John's "Take Me to The Pilot" with his personal Idol Fantasia. I couldn't even pay attention to the performance because Fantasia's outfit was so horrifying. I am, however, certain that screaming with Fantasia just made Mantasia's entire life.

The ladies are joined on stage by Chaka Khan to sing "I'm Every Woman." Everybody's all sparkly! Chaka Khan's outfit, however, is nearly as bad as Fantasia's was. There's at least a 60 second segment where Chaka just sang a bunch of "oooohs" into the microphone. This performance made me miss Elise Testone. Oh look, there's Jane Lynch!

Rihanna performed her latest hit "Where Have You Been." I like her and wish her personal life didn't veer into the realm of trainwreck so often.

Country girl Skylar Laine sings "Turn On The Radio" with Reba McEntire. Skylar has fun whenever she gets on that stage and Reba's a seasoned professional. That was enjoyable.

Jessica Sanchez reprises her performance of "I Will Always Love You." It's just as perfect as it was the first time she sang it on the show. I really, really wish she'd chosen to sing this one last night. She's tackles the big numbers like this effortlessly. I kind of feel like she was born twenty years too late. Can you imagine her as direct competition to Whitney or Mariah? THAT would've been awesome. And maybe that's what's held me back from jumping on Team Jessica. She seems so out of place within the context of today's mainstream music. If she wins maybe it will be a breath of fresh air.

The guys sing "I'm A Believer" and are eventually joined on stage by Neil Diamond to sing "Sweet Caroline" after Joshua nearly pops a vein "going to church." Neil Diamond is practically speaking his lyrics instead of singing them, at least until the chorus, which doesn't last very long. I think I could've done without Neil Diamond.

J.Lo previews her upcoming tour with Enrique Iglesias with a two song number. I think she lip synched the first number and sang the second. I'm so jealous of how good she looks that I kind of don't even care that she may not have been singing.

Season Five contestant Ace Young proposed to Season Three contestant Diana DeGarmo. On stage. She said yes. Thankfully. Otherwise, talk about awkward!

Hollie Cavanagh and Jordin Sparks sing "You'll Never Walk Alone." I'm still kind of amazed Hollie made it to the Top 4.

Phillip Phillips has been conspicuously absent from the tonight's group performances. The other Idol guys pay tribute to late Bee Gees member Robin Gibb without him. It's not great.

Jessica Sanchez and Jennifer Holliday pair up to sing "And I'm Telling You I'm Not Going." Ryan promised emotion. I didn't feel it. But that could be because I was distracted by Holliday's crazy eyes. Their duet was better than Phillip's from earlier in the night, but at times it veered into a game of who could sing more runs.

Aerosmith is on the Idol stage. Ryan says he's been waiting for two years to announce their presence here and I've been waiting two years to see it. Of any concert I've ever seen, Aerosmith remains my favorite. It's no surprise to me that their performance is my favorite of the night. They just know how to rock.

Before the final announcement is made, Jessica Sanchez and Phillip Phillips sing "Love Lift Us Up Where We Belong." Despite the fact that it's not a song either of them would probably choose to sing for themselves, it's not bad. It's actually good. 

Finally, the finalists join Ryan on the stage for the results. 132 MILLION votes were generated in making this decision. For his pre-announcement remarks, Phillip thanks the band and the fans for voting. Jessica thanks the crew.

Keiran dims the lights.

The winner of Season 11 is...

Phillip Phillips.

Scotty McCreery presents Phillip with his trophy and Ryan gives Phillip his guitar. Phillip sings "Home." He's so overcome with emotion he can't make it through the song.

I've been a fan of Phillip's since his audition in Savannah, and I, for one, am looking forward to all the great things to come from this fantastic performer.

What do you think? Did America crown the right winner tonight?

Miranda Wicker is a Staff Writer for TV Fanatic. Follow her on Twitter.

Tags: American Idol, Reviews
From Around the Web