There was some dissension in the American Idol ranks of TV Fanatic regarding last Thursday's elimination of Elise Testone. Some of you were quite fired up about Hollie vs. Elise. I like that kind of passion!

This week, the remaining five contestants have vowed to bring their "A" games to the dual-themed night. We'll hear music from the 60s in one round and Brit Pop in another. Jimmy has called in his friend Steven Van Zandt to mentor the contestants.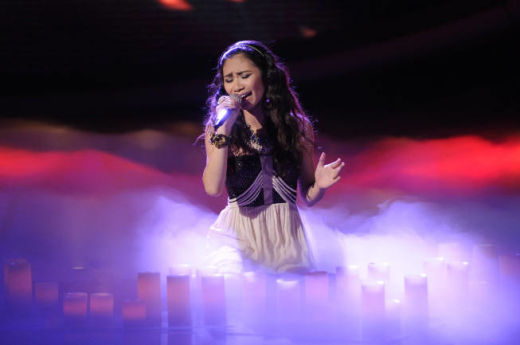 Here goes Round One: The 60s

Hollie Cavanagh is up first singing "River Deep Mountain High." Steven and Jimmy tell her to stop trying to please people when she's performing, which is exactly what J.Lo's been telling her for weeks. Stop thinking so much! It's definitely a nice, uptempo way to open the night. Steven said "thank you, Lord." J.Lo said she bit into the song and attacked it. Randy also loved it. When Hollie loosens up a little bit, she's got some magic. Tonight, she loosened up a little bit. 4/5
Second of the night, Phillip Phillips is singing is "The Letter." He's changed up the song and Jimmy and Little Steven seem to disagree with Phillip's changes. First, I hate the graphics behind him on the stage. They're cheesy and not spectacular. Second, I like his choice to change up the song. Randy said that while the song didn't have as much melody in the chorus as the original (Jimmy's complaint), Phillip made it his own. J.Lo said she didn't know the original song, but he's a dynamic performer who is compelling to watch. Steven said he, too, missed the melody, but Phillip can get away with taking the melody out. It's a sexy performance. 4/5
Skylar Laine came in with one song and walked out with another. Jimmy and Little Steven steered her into Creedence Clearwater Revival's "Fortunate Son." What I want to know is how she didn't walk into that room planning to sing a CCR song from the get-go. What girl raised in the South who calls herself a country girl doesn't know the lyrics to just about every CCR song there is? J.Lo says Skylar seems so comfortable on the stage. Steven loved it. Randy said she made the members of CCR proud. I'll be the dissenting voice here. I didn't love it. She shouted and was overly twangy and her movement was distracting. 2.5/5
Joshua and Phillip are teaming up to sing "You've Lost That Loving Feeling." As a duet. With each other. I'm as confused as the two of them are. In their interview with Ryan, the boys say they don't even know the song and seem genuinely uncomfortable singing this song together. This is just...odd. I'm expecting the two of them to burst into laughter at any moment. Steven called them a match made in Heaven. J.Lo pointed out that it was originally sung by two men being sung to the ladies. That doesn't make it less awkward.
For her 60s number, Jessica Sanchez is singing "Proud Mary." Little Steven thinks she should choose another song, but settles for changing the syncopation in the beginning to make it a little different. As soon as the tempo picks up, Jessica loses her presence in the song. When she stands still again, her vocals are better. J.Lo said she loves seeing Jessica move around the stage. Steven said he's hearing the Blues in her voice. That she "screamed" it. Randy said the performance was barely okay. He felt that her performance was lacking but her voice saved her. I'm inclined to agree with Randy. She chose a song with few actual lyrics and screamed the few in the song. She gets lost whenever she has to move around the stage. (And here's a criticism that isn't affecting her score: when she moves and her hair gets in her face, she fusses with it. Fix your hair so it won't get in your face or don't fuss with it.) 3/5
Joshua Ledet and the 60s. Motown. He's singing "Ain't Too Proud To Beg" by The Temptations. Jimmy and Little Steven were jamming in his practice and had nothing critical to say. This theme fits Joshua perfectly. No, it's not something that would be released on an album today, but it's in his wheelhouse. Steven called him one of the Top 2 best Idols of all time. (Wonder who the other one is?) J.Lo called him a throwback. Randy thinks Joshua could bring R&B back and says it's been missing from the American musical landscape "for a minute." This was my favorite performance of Round One by a mile. I enjoyed every minute of it. 5/5
Totally random observation: Randy's gold lame' jacket matches Kurt's gold lame' pants from last night's Glee.
Now on to Round Two: BritPop.
Hollie Cavanagh is up with "Bleeding Love" by Leona Lewis. Jimmy tells her that her voice is an instrument and she has the potential to stay in this competition. Hollie says in an interview that she knows she has to connect to the audience. It's vocally phenomenal. Steven said she nailed it. J.Lo said she had some breathtaking runs and called it amazing. Randy said she's been the Dark Horse all season but tonight she's two for two and is peaking at the right time. The judges acknowledged their harsh criticisms of Hollie this season and said that they pushed her because they believed in her. After that performance, I believe in her too. 5/5
Phillip Phillips is singing "Time of the Season" by The Zombies. Little Steven said it might scare people that Phillip is sticking so close to the melody on this one. Phillip called the song sexy. Randy called it relaxed and subdued. J.Lo called it mellow and said the verses fit his style. Steven said that in some songs it's a crime not to sing the melody and that Phillip sang that melody well. I wasn't jumping out of my seat with this performance, but I didn't want to leave the room either. It was a solid performance that, while it may not have helped Phillip, didn't hurt him. 3.5/5
Jessica, Skylar, and Hollie are singing "(Your Love Keeps Lifting Me) Higher and Higher." Not that it matters since these group numbers don't affect the outcome, but I feel like we're watching their practice round performance right now. Skylar should be singing immediately after this song and she's in her outfit from the first round. Hollie's back in her dress from Round One, too. It was okay. Nothing spectacular. Which is probably why I noticed their clothes first.
For Round Two, Skylar Laine has chosen "You Don't Have To Say You Love Me." Jimmy and Little Steven think she picked a good song and will be able to bring her country vibe to it easily. Randy called her performance "flawless" and said that she's starting to really tell the stories. J.Lo starts her critique with "You want to win, don't you?" Skylar responds "I really do." J.Lo thinks everything Skylar does on stage is natural. Steven said "it works when you work it." I thought she got a little shouty when the song got louder, but in the softer, slow parts, Skylar was fantastic. 4/5
Jessica Sanchez picks "You Are So Beautiful" by Joe Cocker. Jimmy and Little Steven said she has to have more than just a piano or she'll sound like a lounge singer. I'm not sure Jimmy's plan to add more instruments worked. Steven said she showed America how beautiful her voice is. J.Lo pats herself and the judges on the back for saving her from elimination. Randy said her talent level is unbelievable. Vocally, it was great. I'll give her that. But it was so incredibly sleepy. I didn't feel the emotion the judges felt. I felt tired. 3.5/5
To close out the night, Joshua Ledet is singing "To Love Somebody." Little Steven says it's one of the greatest performances he's ever heard in his life. Mantasia definitely appears for the second half of the song, but it works. The judges give him another standing ovation. I think it's the 16th of the season. Randy was impressed with the fact that Joshua had never heard the song and delivered it with so much passion. J.Lo said he's one of the best singers she's heard in 50 years. Steven called him a real artist. I haven't understood Joshua's appeal on the older songs until tonight. This song is a song about loving deeply and he, at 19, who has declared he has very little knowledge of love and relationships, sold it. I believed the words he sang tonight. 5/5
Tonight's totals:
Hollie: 9/10
Phillip: 7.5/10
Skylar: 6.5/10
Jessica: 6.5/10
Joshua: 10/10
Joshua wins the night. He was by far the best performer with Hollie close behind him. Hollie and Jessica are balladeers and tonight, Hollie proved herself to be the better of the two. Technically, she's more talented than Jessica. I wish she'd been able to pull off performances like tonight's throughout the entire competition. If so, Hollie wouldn't have found herself in the bottom three so often.

As for who will be leaving tomorrow, it's really anybody's guess at this point. I do think Jessica could be in trouble, and despite her stellar performances tonight, I wouldn't be surprised to find Hollie in the bottom as well. The bottom line is that these contestants all have their loyal fans who will vote to try to keep them in the competition. The question is, do they have enough fans voting? Only tomorrow night will tell.

What did you think of tonight's songs? Whose performances were the best of the night?

Miranda Wicker is a Staff Writer for TV Fanatic. Follow her on Twitter.

Tags: American Idol, Reviews