It can be a terrible thing when the past comes back to haunt you.
For Brennan, Booth and the rest of the Jeffersonian team, "The Past in the Present" amounted to a whole lot of evidence pointing to Bones as the culprit in the murder of her friend, Ethan Sawyer.
We all knew that Bones would deliver nothing short of an epic, albeit heartbreaking, season finale.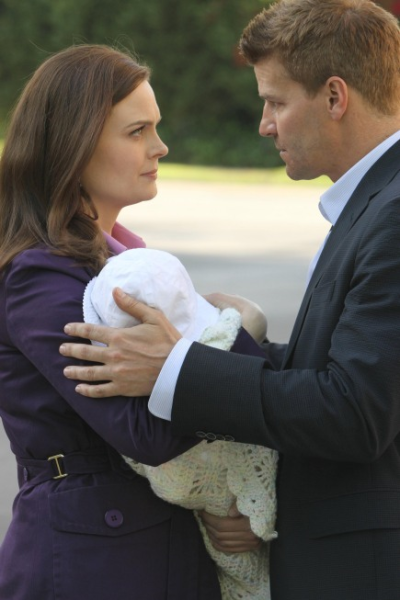 It all started with tech baddie Christopher Pelant's parole hearing. Booth was right. He was a menace to society and he needed to remain under house arrest.
The unfortunate part about it is that even under house arrest Pelant was a menace to society. If anything, he should have been locked up in solitary confinement without possibility of seeing the light of day.
It scares me what all Pelant can do with a computer, and not even just computers - technology in general! How on earth was he able to hack their cell phones?!?
I think it was particularly creepy when Booth's phone rang and it was the sound of wolves after they had just found Ethan Sawyer dead, apparently gnawed on by wolves. I felt terrible for Brennan, especially when it came out that she had consulted Ethan on the Pelant case the last time.
Then there was all that evidence that just miraculously began to pile up against Brennan, from time-stamped security footage to the samples found in the back of Brennan's car.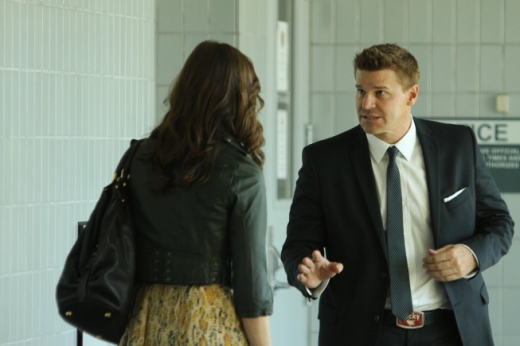 Things got harder and harder as the episode went on.
Angela just loves Brennan so much that she wouldn't hear anything about the evidence against her and did everything in her power to make sure that Brennan wouldn't got to jail. But I couldn't help wondering if some of the things she was doing, like attempting to give Brennan an alibi for the night the tape was timestamped for, weren't potentially going to make it worse for Brennan.
Then again, Cam really was doing the hardest thing she has likely ever had to do. I don't think we've seen her cry that often, if ever. The fact she bawled over the evidence that really put the final nail in Brennan's coffin almost had me in tears as well. Mr. Julian was right, though: Cam was the hero in all of this. Who knew how bad things could have been if she had withheld that information from the investigation?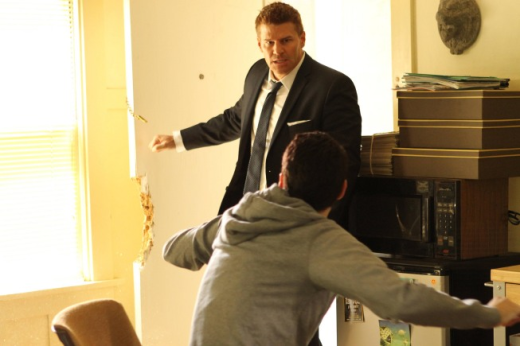 Pelant knew exactly how to push everyone's buttons. And he hit all the right ones. Calling Booth and making it sound like it was Brennan was genius, and it got Booth riled up such that he assaulted Pelant and got himself and Brennan taken off the case.

My favorite moment during that part of the episode was when Flinn came to Brennan's house and tried to execute the search warrant that has the wrong house address on it. Of course, Ms. Julian transposed the numbers! She was buying them more time!

In the midst of all the Pelant drama, there was still a matter of Christine's christening. That was such a great moment for them, as sad as it eventually ended up being, with Brennan leaving Booth to escape her inevitable arrest. I can only begin to imagine the impact this will have on the investigation and her future.

They have made it through worse. The Gravedigger case proved similarly trying for the Jeffersonian team, especially when it came down to being impeached on the stand during the trial and accused of being too close to the case. There's no way they won't find a way to prove her innocent eventually, just as they eventually found a way to convince the jury that Taffet was guilty.

In fact, in the episode's final minutes, that solution, embedded in those strange characters on Sawyer's wall, may give them just that!

Though a truncated season, Bones sure made the most of the episodes they had. It will be a long and painful wait until they return in the fall. Did you love this season finale as much as I did? What do you expect upon the show's return?

C. Charles is a TV Fanatic Staff Writer. Follow her on Twitter.

Tags: Bones, Reviews