With the dust still settling after the surprising Bones season finale last night, in which Christopher Pelant framed Brennan for murder, talk has already turned to where we'll pick up next fall in Season 8.
Having left Pelant (and Booth) in her wake, Brennan took off with daughter Christine in what was a surprising cliffhanger to say the least. She is officially a fugitive from justice, with a newborn to boot.
Where do we go from here? Creator and executive producer Hart Hanson discusses what's next in an interview with TV Line, offering fans a sneak peek at Bones Season 8. Spoilers / excerpts below ...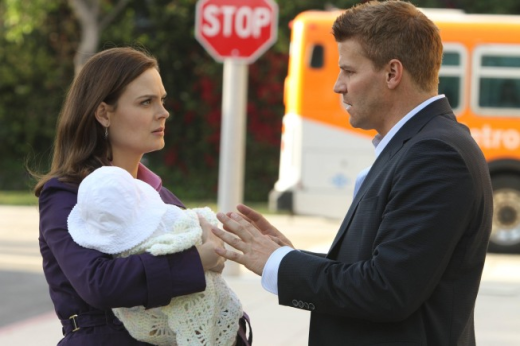 On the time jump to come: It always works for us to have the same amount of time pass for our characters as it did our audience, and I believe we will be close to that again. A couple of months will have gone by.

On whether there's a bomb in the clock: "I will never tell you. What the hell was he doing in the house?! You'll have to tune in and find out."

On Brennan's status with the law: "There is an arrest warrant out for her and she is avoiding that warrant. If she gets [arrested and] gets into the system, then Pelant can do anything he wants to her."

"So she's outside the system in that time, with the help of her dad.

On the length of this continued arc: "It will be many episodes before the Pelant story is resolved [but] I think we will have Brennan and Booth back together [and at work] by the end of the first episode."

"Everyone she works with [takes a position]. Who is, in fact, an accomplice? And who is maintaining a professional, objective attitude? You need both of those things to survive Pelant, and perhaps even catch him."

On Booth's reaction: "If she told him that she was going to evade an arrest warrant, that would be it for him; he would not be able to remain an FBI agent. So that was a kindness not to tell him."

"They're not mad at each other. They're facing a situation together."

Steve Marsi is the Managing Editor of TV Fanatic. Follow him on Google+ or email him here.

Tags: Bones, Spoilers