Game of Thrones Exclusive: Alfie Allen on "Power-Crazed" Theon, Big Battle Ahead
by Matt Richenthal at .
The final scene of last week's Game of Thrones episode was a close-up of Theon Greyjoy, following the reveal to Winterfell residents that he has killed Bran and Rickon (or, at the very least, two little boys).
So when I got on the phone just now with Alfie Allen, I had to ask the actor: What was Theon thinking in that moment?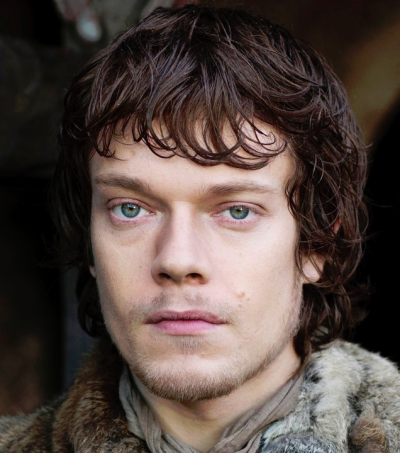 "I had to make a decision on that," the actor said. "And I thought it would be lame if he were too happy about it. He's not just evil, there's some remorse in his heart for what he's done."

And he sure has done a lot, from sacking his former kingdom to beheading Rodrik. After many, many chops of his sword, of course.

"I was really looking forward to that," Allen said of the scene from "The Old Gods and the New." "It was a huge turning point for Theon and, I'm not trying to be big-headed about it, but I thought the whole scene was just fantastic."

The same can be said for Theon's season two journey, which caused Allen to initially worry about fan feedback ("A lot of people don't really like him, which is understandable," the Game of Thrones cast member said at the outset of our call), but which has instead resulting in a fascinating character study.

Yes, Allen acknowledges, Theon was initially motivated by a need to impress his father. But he explains that Theon asked Robb Stark to send him to his old home not just to form an alliance, but also because Theon craved some kind of "status" even then.

"He kind of got lost," after being rejected by his father Allen said. "And then it became more about himself and less about his father. He's just power-crazed now."

Allen - who said he stopped reading the first George R.R. Martin novel halfway through season one and hasn't picked it up since - says a "big battle" is on the way for episode nine. And episode 10? The season finale?

"There a scene I'm really looking forward to seeing. It wasn't initially in the script, and then it was put in and when I read it, I was just like 'Oh my God.' But you'll need to tune in."

Matt Richenthal is the Editor in Chief of TV Fanatic. Follow him on Twitter and on Google+.

Tags: Exclusives, Game of Thrones, Interviews, Alfie Allen
From Around the Web