Welcome back to TV Fanatic's Grey's Anatomy Round Table!
Our official Grey's Anatomy review broke down last week's episode, "Migration," in great detail. Now, TV Fanatic staff members Courtney Morrison, Sean McKenna and Christina Tran have assembled for their weekly Q&A discussion.
Read their answers below and weigh in with yours!
----------------------------------------
1. Mark is torn between Julia, who can give him everything he wants, and Lexie, who has he loved for years. Who's the right choice for McSteamy?
Courtney: Lexie! Lexie! Lexie! I've always been a fan of the odd pairing and when they were together, they both got more screen time. The idea of Julia is nice, but we don't really know the character so who cares what happens to her.
Sean: Lexie, for sure. The two just need to get a room and now!
Christina: Lexie is the ONLY choice.
2. We know three out out of the four residents who passed their boards are definitely planning on leaving Seattle. Who will back out and stay at SGH and who is definitely heading out?

Courtney: Alex will be the one to stay, he won't desert Robbins. Jackson could be the one to leave since he hasn't made his decision yet.
Sean: I honestly haven't a clue. Will all of them stay because they just love Seattle so much?
Christina: I haven't the slightest clue as to who will stay for sure. I've got a feeling that Jackson will leave though.
3. What will happen to April now that all of her offers have been pulled and Hunt let her know he can't keep her next year?

Courtney: I don't know, but girlfriend can't be slamming shots, then running out of a bar. That is a recipe for disaster. She just started to become less annoying, but I'm hoping her character is a goner.
Sean: I've felt like something of an April apologist but her character's been driven into the ground and is more painful to watch than anything. Although I did feel bad when Hunt had to let her go, maybe she'll find a new calling and head off to Private Practice or something.
Christina: Maybe she won't return next season. I'd be lying if I said I wasn't hoping this.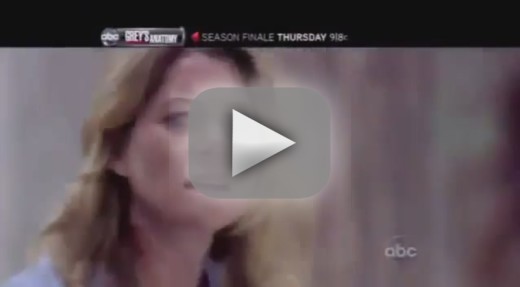 4. A handful of the main docs were involved in a plane crash on their way to a surgery. Who survives? Who doesn't?


Courtney: Well, if the recent contract signings are any indication, Mer, Der, and Cristina are coming out alive. Grey's could totally shock us by killing off Mark or Lexie. Maybe even Callie since she just made that speech to Arizona about never leaving her. In a perfect world, none of them will die!

Sean: None? I know that can't be right. Someone has to bite the big one after a crash like that, but it would be interesting if it was Callie or even Mark.

Christina: What if everyone from the plane crash survives? What if the one person who is supposed to die ends up being someone who wasn't even on the plane?! Maybe April?

5. Make your prediction for the Season 8 finale.


Courtney: Meredith and Derek will survive and decide they don't want to leave Seattle. Cristina will be rattled about the experience and decide to stay where Owen is. A few of them are going to have major injuries and possibly a death. Mark will choose Lexie.

Sean: The crash is going to change a lot of hearts, meaning more doctors will stay than go. Although, I'm sure there will be some twist or death that comes as a real shocker.

Christina: Agreeing with my co-roundtablers. And you can bet I'll come prepared for the finale with a full box of Kleenex. 

What do you think? Share your responses in the comments below!

Tags: Grey's Anatomy, Round Tables