Law & Order: SVU Review: Dawson's Creep
by Teresa Lopez at .
SVU always has some creepy facts that increase our knowledge of the appalling world of sex crimes. And this week, it was genetic sexual attraction (GSA), a condition that causes people to be sexually attracted to parents, siblings and other family members if they are separated at a young age.
Gross!
The topic is pretty taboo and, in fact, was explored in the aptly titled episode "Taboo" during the show's seventh season. In that episode, Ella Christiansen reconnected with her long-lost father and literally started making babies with him, abandoning her newborn in the trash.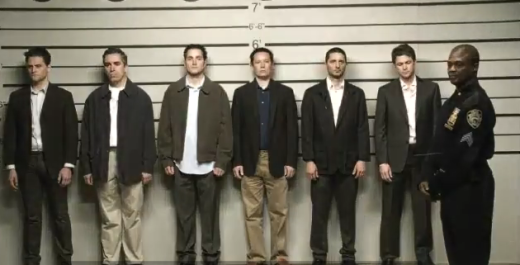 "Father Dearest" may have tread some familiar territory, but it definitely added a much more menacing father-figure with James Van Der Beek's Sean. Unlike Ella's father, Sean purposefully sought out these girls for one reason: revenge.

Van Der Beek appears to trying for a comeback. He appears on Don't Trust the B in Apartment 23, and he's gained some internet notoriety from James Van Der Memes. Those efforts seem to focus on his comedic side. For this episode, he took a decidedly darker turn.

I think the success of the episode really did hinge on Van Der Beek's ability to play an angry, obsessed ex-boyfriend with some serious daddy-daughter issues. Luckily, he pulled it off. Just look at the SVU quotes to see just how creepy he can really be. He was really believable in this role, although I'm not sure that's a good thing. Perhaps he might not want to scare off his female fans. Sean was disturbing enough in that final scene to make it difficult to watch reruns of Dawson's Creek without remembering this performance.

But then again, that might the point!

Was he a believable sexual criminal to you?

This episode didn't indulge in the detectives' storylines as much as previous weeks, but I was thrilled to see the return of Dr. George Huang. His character's calming presence, not to mention his great skill as a psychiatrist, is always a welcomed addition to the show. 

There are only a few episodes left until the star-packed season finale. Are you ready?


Tags: Law & Order: SVU, Reviews
From Around the Web