Lindsay Pulsipher plays a key role in the upcoming History Channel mini-series Hatfields & McCoys, but allow her to make one thing clear, for all those who know her best from her most recent role:
Roseanna McCoy is the "complete opposite of Crystal Norris," the actress told me over the phone, referring to her True Blood were-panther from season four of that HBO hit. "Roseanne is soft and sweet and innocent."
Still, that won't stop the character from getting involved in a pretty major scandal.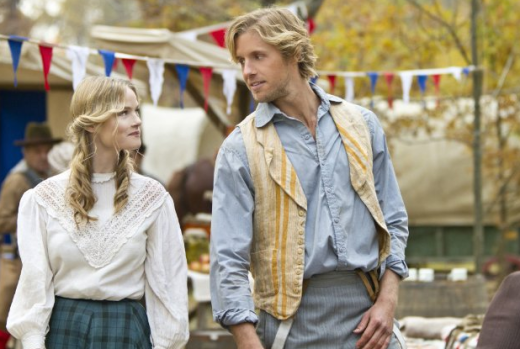 Hatfields & McCoys is based on the true story of two families that feuded after the Civil War. Its impressive cast is anchored by Kevin Costner as Devil Anse Hatfield and Bill Paxton as Randall McCoy.

Pulsipher portrays Roseanna, Randall's daughter and the love interest of Matt Barr's Johnse Hatfield (above).

"Roseanna is the Juliette in this story, the star says. "She falls in love with a forbidden man and her journey is all about how she struggles to come to terms with that. Will she betray her family? Will she be accepted as a Hatfield?"

To get into character, Pulsipher said she enjoyed conducting research into that era. She studied paintings. She read letters soldiers sent home from the way. Was it a challenge to play a real person?

"You don't know her personally, so it was fun for me to bring her to life. I just took her basic story and added my own mannerisms," Pulsipher said.

She also got to work with Paxton as her fictional father and Mare Winningham as her fictional mother, gushing over the experience of sharing the screen with such veterans.

"To work with such iconic actors, I learned so much just by observing, just acting in scenes with them," Pulsipher said, noting how she especially bonded with Winningham and referring to her as a "second mother" on set.

Overall, Pulsipher teases an "amazing arc" ahead for Roseanna, who starts in one place and, when we leave her, "ends up somewhere totally different."

Hatfields & McCoys airs Monday, May 28 at 8 p.m. on History and then at the same time on May 29 and May 30. It also stars Tom Berenger as Jim Vance; Powers Boothe as Wall Hatfield, Devil Anse's older brother; and Sarah Parish as Devil Anse's wife Levicy.

Matt Richenthal is the Editor in Chief of TV Fanatic. Follow him on Twitter and on Google+.

Tags: Exclusives, Interviews