Relatively speaking, the character of Sue rarely curses on HBO's uproarious new comedy, Veep.
So I wanted to give star Sufe Bradshaw a chance to let loose when I got her on the phone this week. Did she have any interest in getting a few F bombs out of her system?
"I think I cursed enough in my youth," she laughed. "I got it all out then."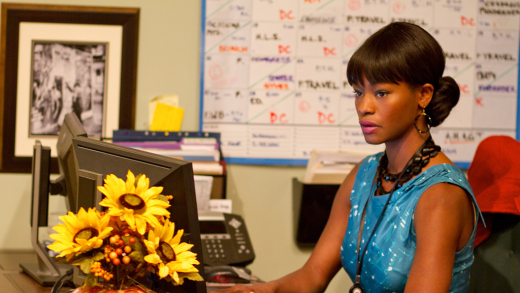 Fair enough. This makes Bradshaw perfect for the role of Selina Meyer's secretary, someone Bradshaw describes as "the junk yard dog of the office."

"She doesn't get as worked up as everyone else," the actress said, referring to Matt Walsh's frazzled Mike or Anna Chlumsky's swearing Amy. "Sue just wants to get the schedule done, get the Vice President on time and go home."

And not to a fake dog, either.

Sue grounds the characters around her, while the cast itself spent six weeks rehearsing before filming a single scene, Bradshaw said.

She gives all credit for the "witty banter" and the way it "feels like we're right in the moment with these lines" to creator Armando Iannucci, who emphasizes the importance of chemistry among the stars.

And anyone who has watched any of the opening Veep episodes can see how well it works. The dialog feels unscripted, as if these people are just bantering back and forth as they work their way around Capitol Hill.

"It's a really good time to laugh at politics because it's such a heavy topic," Bradshaw says of the show's setting. "We try not to be divisive, to take the separation out of various issues."

Viewers will never meet the President on Veep, and there are no plans to reveal Selina's party.

"I was born on the West Side of Chicago," she says. "And I observed a dividing line where some youth go toward education and the betterment of their lives, while some just go… the other way. I knew a lot who simply chose to go the other way and, through interviews and research, I hope to bring awareness to this issue and figure out what creates that dividing line."

As Selina Meyer might say, that sounds like an effin awesome idea.

Veep airs Sunday nights at 10 on HBO. It's hilarious.

Matt Richenthal is the Editor in Chief of TV Fanatic. Follow him on Twitter and on Google+.

Tags: Exclusives, Interviews, Veep