America's favorite Southern belle, Emily Maynard, returns to The Bachelor franchise in under two weeks as the star of The Bachelorette. This time, she'll be the one doling out the roses at the weekly ceremonies.
Emily, of course, won The Bachelor two seasons ago, but things went south with Brad Womack. Undeterred, the single mom of six-year-old Ricki is ready to give romance on reality TV another shot.
This is not your average Bachelorette star. On May 14, Maynard first meets her 25 suitors at a southern mansion for a cocktail party after putting her daughter to bed. Talk about a long day!
As usual, the men will pull out all the stops to impress her - think helicopter arrivals, actual glass slippers being presented, and all sorts of attempts at being charming - but only 19 will move on.
The competition only intensifies from there, too.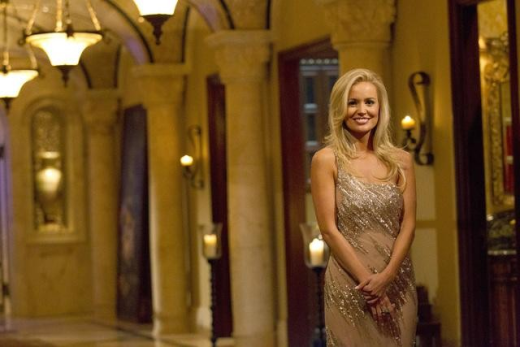 While kicking things off in her hometown of Charlotte, N.C., the 26-year-old beauty will travel abroad to Dubrovnik, Croatia; Prague, Czech Republic; and London, England later this summer.

What surprises await? Who will survive long enough to earn the coveted hometown dates and a real shot with Emily? The Bachelorette spoilers are already swirling regarding that topic ... beware!

Here's a quick rundown of Emily's prospective candidates:

Aaron
Age: 36
Occupation: Biology Teacher
Hometown: North Sydney, Nova Scotia, Canada 

Alejandro
Age: 25
Occupation: Mushroom Farmer
Hometown: Medellin, Colombia 

Alessandro
Age: 30
Occupation: Grain Merchant
Hometown: Uberlandia, Brazil 

Arie
Age: 30
Occupation: Race Car Driver
Hometown: Den Bosch, Netherlands 

Brent
Age: 41
Occupation: Technology Salesman
Hometown: Midland, TX  

Charlie
Age: 32
Occupation: Recruiter
Hometown: Worchester, MA 

Chris
Age: 25
Occupation: Corporate Sales Director
Hometown: Bartlett, IL 

David
Age: 33
Occupation: Singer/Songwriter
Hometown: Charlottesville, VA 

Doug
Age: 33
Occupation: Real Estate Agent
Hometown: Seattle, WA 

Jackson
Age: 29
Occupation: Fitness Model
Hometown: Chicago, IL 

Jean-Paul
Age: 35
Occupation: Marine Biologist
Hometown: Moraga, CA 

Jef
Age: 27
Occupation: Entrepreneur
Hometown: St. George, UT 

Joe
Age: 27
Occupation: Field Energy Advisor
Hometown: Orlando, FL 

John
Age: 30
Occupation: Data Destruction Specialist
Hometown: St. Louis, MO 

Kalon
Age: 27
Occupation: Luxury Brand Consultant
Hometown: Houston, TX 

Kyle
Age: 29
Occupation: Financial Advisor
Hometown: Long Beach, CA  

Lerone
Age: 29
Occupation: Real Estate Consultant
Hometown: Laguna Beach, CA 

Michael
Age: 26
Occupation: Rehab Consultant
Hometown: Tahoka, TX 

Nate
Age: 25
Occupation: Accountant
Hometown: Scottsdale, AZ 

Randy
Age: 30
Occupation: Marketing Manager
Hometown: Oak Creek, WI 

Sean
Age: 28
Occupation: Insurance Agent
Hometown: Dallas, TX 

Stevie
Age: 26
Occupation: Party MC
Hometown: Monroe Township, NJ 

Tony
Age: 31
Occupation: Lumber Trader
Hometown: Beaverton, OR 

Travis
Age: 30
Occupation: Advertising Sales Rep
Hometown: Madison, MS 

Steve Marsi is the Managing Editor of TV Fanatic. Follow him on Google+ or email him here.

Tags: The Bachelorette