I'm sort of back to not really liking Cathy Jamison very much.
I had this problem on season one of The Big C, when Cathy hid her disease, bought herself a sports car, engaged in an affair. Not exactly appealing behavior for a show's main character.
And now, on "Face Off" and over the last couple weeks in general, she seems to be back to her selfish ways, lying her way through some alternate life at a bar; making no attempt to connect with Adam; and making every effort possible to adopt a baby.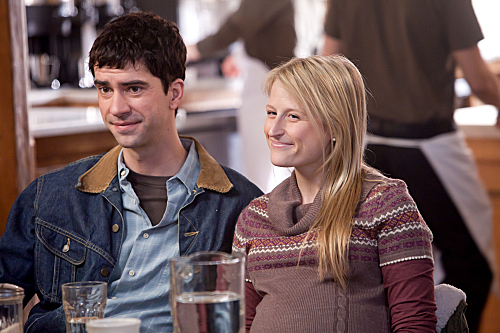 I've made this same complaint after the previous two episodes, but it's worth saying again because Cathy continues to act this way: she and Paul should not have another child. Neither is healthy, Paul seems more excited by his burgeoning career than the prospect of fatherhood and, I'm sorry, but, yes, they're old.

We're meant to root for Paul and Cathy over the younger pair of prospective parents, but only because the show tells us to; only because Paul and Cathy are the characters we've been watching for two-plus seasons.

In reality, taking an unbiased view of the situation, of course a couple in its 30s, without a history of heart failure and cancer, would make a more suitable family. I can't imagine what Adam told Dave and Maxine to convince them otherwise.

(On a somewhat related note: I have an unhealthy crush on Mamie Gummer. First Cut has not even been picked up yet by The CW and it's already my new favorite show.)

So we'll see. I have a feeling The Big C is aware of this problem and Cathy will soon realize she, unfortunately, really is not the best fit for this child. It's a switch that simply needs to be flipped.

Elsewhere, not much movement on other fronts. Sean is still pretending to slap gay men over the phone; Adam is officially dating Jesse; and Joy is... looking out for Paul? For herself? I don't trust this woman very much.

It's fine to be a businesswoman and to look out for your own bottom line, of course. But that doesn't jibe with her message of helping others find their happiness, not when/if she's manipulating those others to come on the road with her and forget their responsibilities at home. Joy didn't exactly seem to be supporting Paul in the adoption, did she?

Then again, I just spent more of this review saying I don't support Paul in the adoption. What is your take on Joy? Can she be trusted?

Matt Richenthal is the Editor in Chief of TV Fanatic. Follow him on Twitter and on Google+.

Tags: The Big C, Reviews
Want more The Big C?
Sign up for our daily newsletter and receive the latest tv news delivered to your inbox for free!
More From TV Fanatic
Power struggles ensue all around Chester's Mill on Under the Dome. Lives will be put on the line.
Scott decides to get tough on Teen Wolf after rescuing his Beta by declaring he won't sit back and watch more deaths. Find out what else went down in the review!
Heather and Tamra consider making peace with Shannon on The Real Housewives of Orange County. See what went down in our TV Fanatic review!
On Murder in the First, the trial of Erich Blunt reaches its conclusion. But what is the verdict? Find out when you read the review.
---