We're starting Part 2.
So says Vampire Diaries producer Julie Plec in explaining how the writing team sculpted last night's shocking season three finale and where they see things going next.
SPOILER WARNING: The following excerpts from an extended interview Plec gave to Entertainment Weekly touch on events from "The Departed" and tease what's to come on Season 4. Read on at your own risk...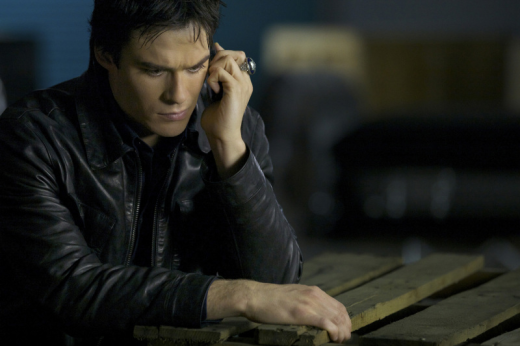 Let's start with some basics: Yes, Matt is alive. Indeed, Klaus really did start the Salvatore bloodline. And, hmmmm, Plec - wink, wink? Hint, hint? - says she did not see Klaus' "entire body burned to bits."

As for other pressing TVD questions...

Why turn Elena now? "You've got a girl who just sorta lost her last adult living family member when Aunt Jenna died last year, so when we started this season, what we really wanted to do was begin this relationship with Alaric as her guardian and mentor, and then tear that away from her at the end leaving her and her brother with nobody. It felt like now was the time - when you're left with no grownup, no adult supervision, no parent, no guardian - for Elena to experience the next evolution of her journey."

She will transition, right? "There will be a discussion to be had about it at the beginning, but the road we're going down is pretty balls out."

Did Elena know she had vampire blood in her system? That will be answered on the season four premiere.

What about the surprise that Damon met Elena before Stefan met Elena? "There's some new information that will be introduced to Elena in the first episode of next season. I think it's just all part of the ongoing friendship and romantic entanglement that Elena has with Damon. She's never gonna be able to shake it completely, and new information is only gonna get under her skin and embed itself into her even more."

But is she fully committed to Stefan again? Yes, "we'll get to actually see them be together for a little while."

What will be the state of the Council? We'll meet new member and: "That's definitely gonna be the focus of our first episode back. The Council knows too much and needs to take action against not just those on the inside who have been deceiving them, but also the vampires that have taken up residence in the town.

What's next for Bonnie? Next year is really gonna be about having her understand not just that there are consequences for her actions, but that ultimately she needs to get in touch with who she really is as a witch and what kind of witch she wants to be.

Will anyone be talking to Rebekah? Klaus will be peeved because she ended his chance at making new Hybrids, while her "very, very, very aggressive and murderous move" will "ostracize" this Original "even more so than she's already been," Plec says.

What about a new villain? "That is a question that remains. Where is the Big Bad gonna come from? That's gonna be part of the fun of laying that out and understanding who our villain is gonna be and why."

UPDATE, 5/16: Plec has upped the ante for Morgan's return, in fact, telling Zap2It: There's a "99.9% likelihood that [Klaus'] body did not burn up in that coffin."

UPDATE, 5/17: An official CW press releases now teases...

Season Four begins with the knowledge that everything is changing. As Elena and her friends enter into the final stretch of high school before graduation sends them off on different paths, their bond to their home town of Mystic Falls takes on a deeper meaning when a new villain seems intent on destroying it.

UPDATE, 5/25: Where might Damon be on Season 4? Teases/hint Ian Somerhalder: "Here's the good thing: he's not pining for her, he's not pining for Katherine, so maybe we'll get some of that Season 1 Damon back."

UPDATE, 5/30: Candice Accola has told TV Guide that she may not know exactly what's on tap, but she is "excited to see what everyone's breaking point is going to be because at this point everyone has really had to keep it together."

UPDATE, 6/2: Kevin Williamson acknowledges that Season 4 will focus on Elena's struggle to accept her identity as a vampire, while also teasing Phoebe Tonkin (EEEK!) as a guest star.

UPDATE, 6/4: At the ATX Television Festival in Austin, Plec confirmed that we'll meet Bonnie's father at some point during that witch's senior year. "This year is a big year of transitions," the producer said. "It's the end of senior year, and there's a rich home life for everybody we're going to explore."

UPDATE, 6/6: Plec also went into detail about Elena and what her transition will be like. She hyped the turn as making this character into a "supernatural heroine."

UPDATE, 6/28: TVD is casting for two recurring new roles: April, a 16-year old who moves back to Mystic Falls; and Connor, described in network notes as a "killing machine."

UPDATE, 7/12: Todd Williams has landed the role of Connor.

UPDATE, 7/19: Grace Phipps has been cast as April, the aforementioned returning resident who will share a history with Elena and Jeremy.

UPDATE, 7/24: The season premiere will be titled "Growing Pains."

UPDATE, 7/30: Plec has said the opener will feature a "death sequence" and it will be related to Alaric telling the Council about the presence of vampires.

Tags: The Vampire Diaries, Interviews, Spoilers