Welcome back to the 213th Gossip Girl Caption Contest at TV Fanatic. Yep, 213... what a run! If you're new, this is where our readers submit their best caption(s) for a photo from the CW drama. So who won?
Your Caption Contest winner, featuring a scene from Gossip Girl Season 5, is Maria.
Congrats on a job well done. The winning entry appears below. Honorable mentions go out to LFH, Amie and M323K. Thanks to everyone for playing and best of luck again next week!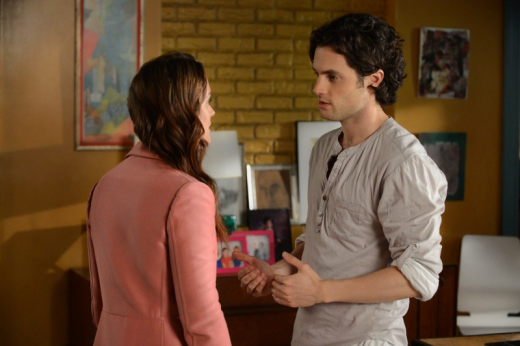 Dan: My next book will be about this girl that gets pregnant from a prince, loses the baby on her way to break up with the prince to be with her ex, makes a pact with God to save her ex and promising to marry the prince, marries the prince but on her wedding day a video is released in which she confesses she loves her ex. So, the prince says their wedding is just business, she runs from the wedding with another man who was also the boyfriend of her BFF, comes back to the prince when she learns she has to pay a dowry for breaking up with him. When she finally breaks up with the prince she decides she wants to be with the man she ran away with and not the ex, but it doesn't last long since her ex's father is resurrected and she decides she wants to be with her ex and that she doesn't care for the other man...
Blair: Come on Dan, let's be serious here...

Steve Marsi is the Managing Editor of TV Fanatic. Follow him on Google+ or email him here.

Tags: Gossip Girl, Caption Contests