Tammin Sursok didn't say a single word on her first Pretty Little Liars episode.
After auditioning for Spencer, the actress was called back in, landed the pilot role of Jenna and walked around in blind silence. She's been scaring and confusing the heck out of everyone in Rosewood ever since.
But Sursok says viewers are about to see a different side to this mysterious young lady; heck, it's a whole "different season" ahead for her, the actress told me over the phone late last week.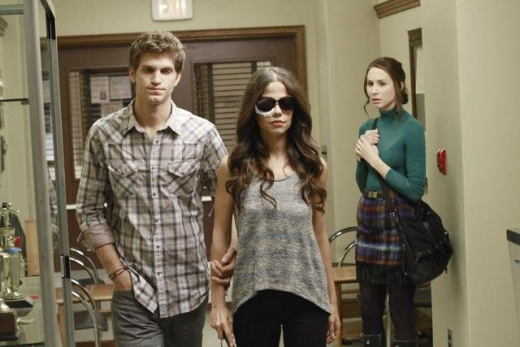 "She really gets to shine," Sursok said of what's to come for her character. "There's more sexiness ahead, more sass, more pizazz."

Fans will also find out more about Jenna's sight over the next couple episodes, while Sursok says she becomes the "Queen Bee" in episode five.

"She changes back into who she was before the accident. You'll find out more about her past and who she was when she could actually see."

To prepare for the role, Sursok read many books and spoke to those who are visually impaired. She was drawn to Jenna because she's the "other end of the spectrum" to who Tammin is as a person, something that's apparent when you hear the actress' enthusiasm and excitement.

"You love to hate Jenna," Sursok says of her villainous turn so far. "But now you'll hate to love her. It would have been the easy way to simply play her as evil, so I wanted to make sure the audience really saw her break down at times. We all have different layers."

Is Jenna really done with Garrett?

"I think Jenna is a player," Sursok said, careful not to give away any specific story lines." She's always calculating her next move and seeing who she can use to help her."

And what can the actress tease about tomorrow night's "Blood is the New Black?"

"The girls think they have Jenna figured out. But she lures them into her trap again. It's a game of cat and mouse and then Jenna reveals something big on episode three that's kind of shocking."

Matt Richenthal is the Editor in Chief of TV Fanatic. Follow him on Twitter and on Google+.

Tags: Exclusives, Pretty Little Liars, Tammin Sursok, Interviews