"Welcome to the Dollhouse" ramped up the fear factor for me, as I've always found dolls really creepy. So when the serial killer with the fetish also added a thing for scrunchies and a penchant for '90s fashion, I knew I was in trouble. If I don't have nightmares tonight it will be a miracle.
That said, the first suspect still made me laugh. Listening to Herbert shout at his doll wife was somehow sad and ridiculous at the same time. It's certainly better than him abusing a real person and if he paid $8,000 for a giant piece of plastic I suppose he can do what he likes to it.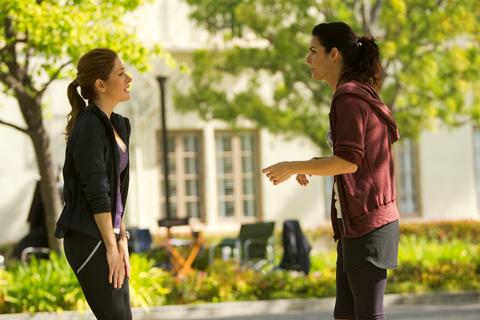 When it came time to actually reveal the killer I was surprised that it almost made me sad. Jonathan was a freak but did the kid ever really have a chance? His father abused and then murdered his mother right in front of him. Goodness knows what he put the kid through after that. 
No wonder he ended up in a mental institution. Unfortunately it would have been safer for him and and the general public if he had just stayed there.
While Jane's trying to find our freaky doll killer she's also going through the five stages of relationship grief, but her idea of therapy is a little different from Maura's. As she points out in this Rizzoli & Isles quote…
 I'm going to work out on my couch. The five stages of junk food. | permalink
After last week's episode revealed Casey's paralysis I wondered how long Jane would be kept in the dark. I'm grateful it wasn't long at all.

As Maura says, Casey isn't mean but he is in a world of emotional pain right now. Thankfully Maura doesn't make that promise to Casey about keeping his condition a secret. I think Maura knew that she didn't have to tell Jane directly. She just had to tell Angela.

Angela's a busy woman. She's making Peter Rabbit pancakes for the masses, sneaking food to the homeless, running a blog and fixing her daughter's shattered love life. She's one multi-talented woman and it looks like the Captain is noticing.

On the flip side, I'm happy that Maura's new boy toy from last Tuesday was no where to be found. One episode of him was definitely enough.

In the end there's still hope for Jane and Casey and I'm interested in seeing if Maura pulls some strings to make sure he gets into that clinical trial. I hope to see more of him during the rest of the season.

C. Orlando is a TV Fanatic Staff Writer. Follow her on Twitter.

Tags: Rizzoli & Isles, Reviews