As much as I've enjoyed shipping Sam and Andy on Rookie Blue, Dov Epstein has always been one of my favorite characters. So I was very happy to have the chance to interview Gregory Smith this week before the game changing episode "A Good Shoot." 
Below, the actor talks about the episode that will shatter Dov's existence, which storylines he enjoys and whether or not he'll be directing any time soon.
-------------------------------------------
This week's Rookie Blue has Dov in the middle of a very sensitive story line. How did you feel about playing it?
As an actor, you are always hoping for more and more challenging material. So this is an episode that is very close to my heart and important for the character over the course of this show. There's also a lot of responsibility that comes with that too so you get a little bit nervous.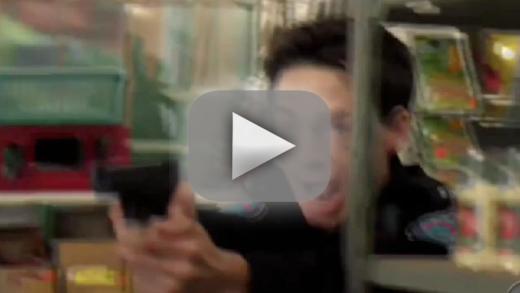 You've been playing this character for three seasons now. What do you like the most and the least about Dov?

What I love about the character is that he's so sort of transparent about what he wants. The day you meet him he's so enthusiastic because this is a day he's waited for his entire life. As a result it has put him in this place where he's so set up for heartbreak and failure and a lot of dramatic attention. I kind of loved his enthusiasm because it gave him so far to fall.

Last season left Dov's relationships with both Chris and Gail in a strange place. Will we see that addressed this season?

Dov and Chris, the bromance returns. Travis [Milne, who plays Chris] and I are roommates. We live in the same place in Toronto so we're roommates on the show and off.  Those scenes just play themselves.  Dov and Gail are a bit of kindred spirits but out of respect for his buddy, that storyline, we're going to be leaving alone for a little while. It's just a little too loaded. But long term, we'll see. I'm not sure. I really like the storyline but we'll see what happens long term.

Will we get to find out anything more about Dov's past this season?

This week Dov's involved in a storyline that completely shatters his existence and sets him sort of off his path and the rest of his season arc is him dealing with events that unfold this week. We don't get too much more into his past or his family. It's more about his present and his future.

Did you do anything interesting over the hiatus from Rookie Blue?

I spent a month in South Africa. I love to travel so every hiatus I try to travel for at least a month or two. I went on a safari and diving with great white sharks and all that kind of stuff. Right now I'm actually in Utah at the Sundance Labs.

Do you have any interest in directing an episode of Rookie Blue?

I did this year, actually, and it was one of the greatest experiences of my life. It went really well and I loved it.  Hopefully I'll do more.  It's episode 11 this season.

We'll be sure to watch - and Rookie Blue fans should be sure to check out my recent interview with Ben Bass as well.

C. Orlando is a TV Fanatic Staff Writer. Follow her on Twitter.

Tags: Exclusives, Rookie Blue, Interviews, Gregory Smith