"The group that we've got, we're like a family," JR Bourne told me of the crew making MTV's hit series, Teen Wolf.
The veteran actor - who plays the mostly antagonizing Chris Argent - went on to say that "you realize how grateful you are for not just loving the job, and the character, but also loving everyone involved."
It comes off exactly like that on screen. Teen Wolf has been an extremely fun series to watch, and a lot of that can be credited to what seems to be a very enjoyable atmosphere among those creating it. Bourne reiterated a number of times during the interview: "I have fun with [Tyler Posey]."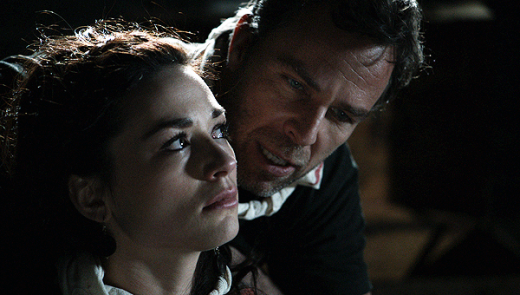 So much fun that while filming the scene in which Chris and Scott pick up desserts in the kitchen during last week's "Abomination," Bourne said "that was the only [take] they could have used. I cracked up every time."

The characters might not all get along on screen, but it's apparent that the actors, writers and everyone else involved with the show are like a family. Teen Wolf gives off that vibe every week, as we watch Scott, Stiles and the gang traverse this crazy world they're inhabiting.

It's not all champagne and strawberries for Bourne, though. He gets to portray one of the most complicated characters on the series in Argent, but he takes pride in that fact.

"Chris always struggles with the duality of what he feels he's doing for mankind in saving them from werewolves, and then taking care of his family," Bourne said. "[Creator] Jeff [Davis] has done this great thing in making Chris like this lone wolf, who seems to be the only one who wants to deal with the code."

That will only become more difficult for Bourne's character now that his father Gerard is in town.  

"I think he struggled and fought against his father growing up, because of [Gerard's] leniency with the code."

From what we've seen of Old Man Argent, I would suspect that struggle to continue.

Expect Gerard's style of parenting, and his appearance, to have a major affect on both Chris and Allison in the near future. Bourne says that "[Chris] wants to be the father that [he] wanted growing up" and he wants to instill the code in Allison, while getting across the importance of what they're doing in protecting the world from werewolves.

But like we've seen already, Gerard is going to stick his nose in the middle of everything. Grandpa Argent "gets himself right in it the way [Kate] did, but he does more so," Bourne said. "He actually will get to her, and start to affect her.  [Allison] actually starts to listen to him, and that kills [Chris]."

Bourne concluded the interview by assuring fans that "There is definitely going to be a big surprise. There's going to be a tragedy, something that the Argents are going to have to deal with."  

He went on to explain that it wasn't just one shocking event: "You get hit with one, and then there's another one, and then there's another one."

If that doesn't get you pumped for the rest of Teen Wolf's second season, I don't know what will. Don't forget to watch an all-new episode of MTV's Teen Wolf this Monday at 10 p.m. Return to TV Fanatic later that night for a full review.

Dan Forcella is a TV Fanatic Staff Writer. Follow him on Twitter.

Tags: Exclusives, Interviews, Teen Wolf