The season finale of The Client List left me both satisfied and holding my breath, as Riley's secrets began to close in on her.
There were plenty of questions left unanswered in "Past Is Prologue" but none got under my skin more than not knowing where the heck Kyle has been. Throughout all of his begging, apologies and justifications he never actually said where he went or what he'd done for the past year.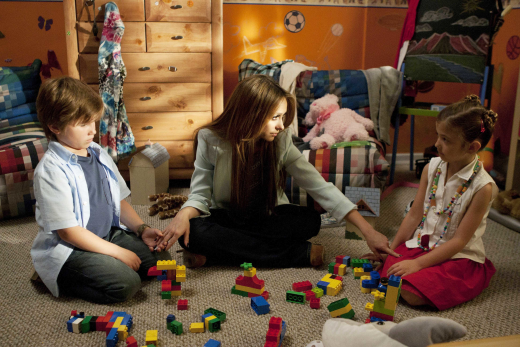 On the up side, it was enjoyable to watch Riley slam the door in his face upon his return. Goodness knows he deserved that and more.
Where the children on a lot of shows simply annoy me, I like the kids on The Client List. Kudos to the writers for giving them a touch of realism, personflied when Riley and the duo were sleeping on her bed. It was just this tangle of arms and legs going every which way and it made me smile. That's what it's like sharing a bed with children.
The kids were a mess upon Kyle's return, thrilled that Daddy was home but angry that he'd left them and fearful that he'd leave again. It's confusing for adults to deal with such a betrayal, but even more horrible for a child. 
Kyle was such a mess he didn't even seem to realize that it was summer break for the kids. For all of his apologies he failed to realize the hell he'd put his family through.
Nothing made me more furious than this The Client List quote where Kyle told Riley:
You're not exactly the easiest person to come back to. | permalink
If I didn't think Kyle was a complete ass before, that line certainly convinced me. I would have loved it if Riley had shown him the door and told him not to bother coming back... but they share kids, so it's not that easy.
My favorite scene of the episode was Evan confronting Kyle. He was so hurt that his only brother, his only living family member, could walk out and never say a word. In that moment I realized that Kyle betrayed him just as much as he did Riley.
But Riley's life was just as complicated at home. Georgie took off on "vacation" saying…
My spidey senses are tingling something awful. | permalink
... and left Riley in charge. Did she really think that the heat was only on her personally?  If she's wrong, and the actions of that State Trooper made it seem that she was, then Georgia just left Riley with a target on her back.

The moments that left me happiest were between Riley and Evan. It was as though they were in this together. When Evan said he loved her as he left, it meant so much more than the casual sentiment it could have been. And when Kyle spotted them holding hands, he knew that their relationship was no longer strictly platonic.

Was that why Kyle travelled an hour to follow Riley back to the spa? When he said he only came back because he heard she was in trouble, what the heck did he mean?

Am I wrong? Should Riley give Kyle a second chance or should she move on... with Evan? When her secret comes out, will either of them stick around? And how long will we have to wait until we get answers in season two because I want them now!

C. Orlando is a TV Fanatic Staff Writer. Follow her on Twitter.

Tags: Reviews, The Client List