Things really began to heat up for Michael and Fiona in "Split Decision," as Agent Card showed up to offer a Get Out of Jail card. It seemed almost too good to be true, but I love John C. McGinley so much I was willing to go with it. 
Did anyone else think Card and Fiona's back and forth was cute and playful, right up until she tried to make him feel guilty? Then he told her the truth about how he flew halfway around the world to force Michael to leave Ireland so they wouldn't be killed. Talk about dropping a bomb! 
Fiona has blamed Card for her and Michael being apart and I don't think she was ready for the revelation that all their time together in the last six years was a result of him saving Michael. If I had been in Card's shoes I might have said something a bit sooner.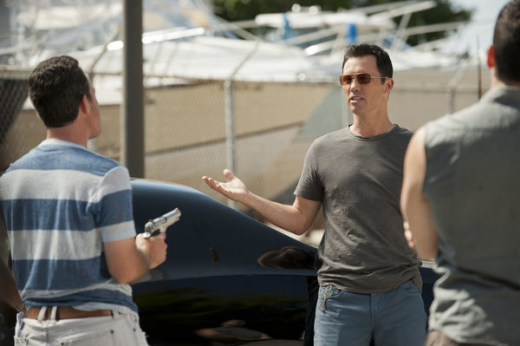 Then you have Rebecca and Sam. Who knew they were so much fun together? Oh right, Christine did, as she mentioned in her Burn Notice review last Thursday. I now agree, as Sam and Rebecca are great partners and play well off each other. From her using cleavage to get the folder refilled to Sam driving the car into the water they made an awesome team.

Here is hoping that Rebecca is who she seems to be and Team Michael just recruited another player. While I'm not sure I trust Rebecca yet, she is starting to grow on me. But I will never get tired of seeing Sam made nervous by a woman, it's just too much fun.

As for the job to help Rebecca's brother, I want to feel sorry for Wes and his wife, but I find it difficult, given the nature of what he does and her general attitude. Does that make me heartless? Nah, I didn't think so either.

Of course leave it to Michael Westen to actually be everywhere at once and be able to finish with Rebecca's brother and make it to the meeting point for Card to meet Grayson. When Card told Michael that Fiona is officially a CIA asset, my first thought was that she better get a private room in prison until this is over to keep her safe. 

I can't believe we are almost halfway through this season already, it feels like we just started. And don't forget, while we wait the seven long days until the next episode, you should stop by and check out some of the awesome Burn Notice quotes from this week! 

Jim G. is a TV Fanatic Staff Writer. Follow him on Twitter.

Tags: Burn Notice, Reviews