A few weeks ago I spoke with Patrick Duffy, who mentioned that the new Dallas moved so much faster than the original that it felt as though it covered five episodes worth of story in the span of one hour. He wasn't kidding.
Dallas is a quick, fun ride and you need to hang on tightly if you're going to keep up.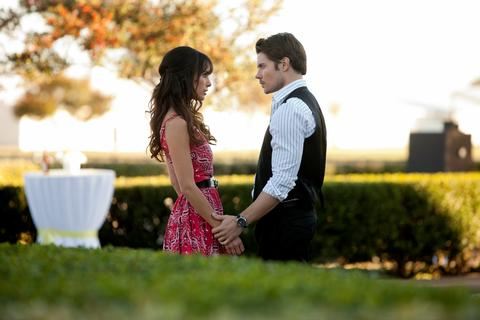 "Truth and Consequences" picked up exactly where we left off last Wednesday night, with a tearful Rebecca about to tell all to Christopher. And tell all she did. Well, at least a certain version of it.
Did you believe the teary-eyed girl? Was this all her evil brother's ploy and she just got swept along for the ride?
Christopher was certainly quick to kick his dear wife to the curb. I thought that being married would have at least bought Rebecca one serious conversation to try and explain, but Chris was having none of it. He told her to get out and then tore off in his super hot Tesla.
Does Rebecca simply see Annie as the easiest mark to use to gain her way back in to the Ewing clan? Or is she really in love with Christopher? And what will brother Tommy do when he finds out about her secret meetings?
Rebecca's confession was pushed aside rather quickly, though, to make room for the big reveal about who owns Southfork... J.R. pulled it off and I loved how he and Bobby's argument showed where the lines were drawn. Bobby's goal is to honor Miss Eliie and never drill on Southfork. It was her family's land to begin with and he's always had a special connection to his Momma.
On the other hand, J.R. was always Daddy's boy and Jock was all about the oil. As John Ross said in this Dallas quote...
You should have known that JR. wouldn't let two billion barrels of oil slip through his hands. | permalink
It was inevitable that J.R. would fight for it and we all know the only way J.R. knows how to fight is dirty. Just ask John Ross.

Not only did he pull the deal right out from under his own son, he then split town to let John Ross deal with all of the nasty consequences. J.R. was clearly taking advantage of John Ross' need to prove himself because even when John Ross knew Daddy had double crossed him, he still couldn't walk away.

I liked John Ross the most in his dealings with Elena. He looked truly hurt for her when she told him how Christopher tried to pay her off and told her she couldn't be trusted. He really cares for Elena. Unfortunately, his desire to pursue their relationship led him to lie to her and there's no way that won't come back to haunt him.

And as angry and disappointed as I was in Christopher for his treatment of Elena last week, he redeemed himself a little by choosing not to show Elena that DVD. It was the decent thing to do. Perhaps there's hope for Christopher yet.

I was surprised by Annie's choice to go see her sleazy ex. I'm sure Bobby had no idea and he won't be pleased when he finds out. Annie seems like such a good person. How did she end up married to such a creep? Just the thought of that hug made my skin crawl.

So do you think John Ross will succumb to Christopher's blackmail and turn on J.R.? Will Christopher move closer to the dark side despite Bobby's pleas? How long will John Ross and Elena last and does Rebecca have any chance of remaining Mrs. Ewing?

C. Orlando is a TV Fanatic Staff Writer. Follow her on Twitter.

Tags: Dallas, Reviews