We know who the nominees are, and we've taken a look at some of the biggest snubs, but now it's your turn to weigh in on the 2012 Emmy Awards TV Fanatics! Staff writer Dan Forcella is here to give you quick refresher on each of the major categories, and then turn it over to you all to let us know who should win come September 23.
Other categories previewed so far: Lead Actress Comedy, Lead Actor Comedy, Supporting Actress Comedy.
-------------------
Here is one of the largest travesties of the Emmys. This is now two years in a row that all four Modern Family men have been nominated for Outstanding Supporting Actor in a Comedy Series. They're all fine, and Ty Burrell, in fact, actually deserves his nomination for a great performance this season, but the Academy needs to realize that this is a stacked category with way too many talented actors to be lazy enough to choose the Mod Fam Four year after year.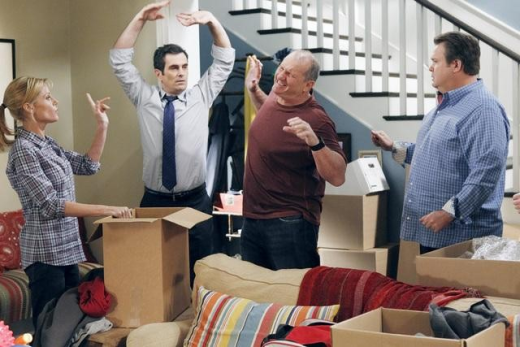 Burrell, last year's winner, is surely the favorite, but I wouldn't be surprised if they continued to share the Modern Family wealth. Remember, Eric Stonestreet won this for the show's first season two years ago, but he had a fantastic episode submission to help him out.

Will Ed O'Neill or Jesse Tyler Ferguson have the submission to beat their Emmy winning costars this time around? The former probably has the edge over the latter simply based on seniority. A question people are now bringing up, with the big news of contract disputes for these main cast members, is will that affect all of their Emmy hopes?

Could it be enough to anger the voters into giving the prize to SNLer Bill Hader or New Girl's Max Greenfield? Greenfield might actually have enough buzz around him to have a chance come September. Still we're living in a Modern world, and Modern Family will probably leave with the gold again in 2012.

The major surprise on nomination day definitely was Hader. Not because he didn't have as good of a season as Fred Armisen or even Taran Killam, although he didn't.  Critics and fans love him alike, but I really thought Nick Offerman would make the cut this time around. Ron Swanson is beloved by almost everyone in the world, and after Parks got a series nom last year, I thought Offerman would be a shoe in for the other non-Mod Fam spot.

Who did enough to win the prize?  And who just didn't have the stuff? It's your turn to let us know who you think should win this year's Emmy for Outstanding Supporting Actor in a Comedy Series.

Vote in the poll below and then sound off in the comments!

Dan Forcella is a TV Fanatic Staff Writer. Follow him on Twitter.

Tags: Emmy Awards