We know who the nominees are, and we've taken a look at some of the biggest snubs, but now it's your turn to weigh in on the 2012 Emmy Awards TV Fanatics!  Staff writer Dan Forcella is here to give you quick refresher on each of the major categories, and then turn it over to you all to let us know who should win come September 23.
Other categories previewed so far: Lead Actress Comedy, Lead Actor Comedy.
-------------------
I predicted nothing to change from last year's group of nominees for the Outstanding Supporting Actress in a Comedy Series Emmy. Things changed. For one, Betty White was not nominated for a second straight time for Hot in Cleveland. Apparently she CAN be stopped.
While she is obviously very talented, it seems like her sympathetic nomination from 2011 was given to the late Kathryn Joosten, who sadly passed away in early June. I enjoyed Joosten's work in the first season of Desperate Housewives (only one I watched), but it was a very small role. Either they gave her more as of late, or this is indeed more of a nod to her body of work after her passing.
The fact of the matter is that if voters feel strongly enough about Joosten's performance to nominate her, I wouldn't be surprised if the heartstrings are pulled enough to give her the win. She HAS won for this exact role twice, albeit in the guest actress category.  Still, she's not the favorite.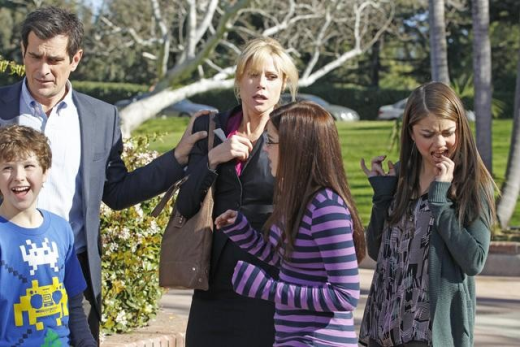 Last year's winner, Julie Bowen, is the favorite to win again. Until Modern Family stops winning Emmy Awards, I won't expect it or its regular cast to lose any time soon.  Bowen's cast-mate Sofia Vergara doesn't seem to have any kind of an edge, but Kristen Wiig may have a chance thanks to it being her final season of Saturday Night Live.

The newcomers to the field are Mayim Bialik and Merritt Wever from a pair of shows that the Academy continues to show more and more love to. I don't think either of them have the juice to come up with the surprise win, but Wever HAS had a ton of critical backing, so she has that going for her.

On top of the absence of Betty White, the lack of nominations for Jane Lynch and Jane Krakowski also surprised me. Good for the Emmys, though, as some of these shows start to show their age, sometimes the Academy refuses to notice and keeps nominating the same people. This time around they didn't. Eliminating the Janes left room for some new blood, which is always a good thing.

Who did enough to win the prize? And who just didn't have the stuff? It's your turn to let us know who you think should win this year's Emmy for Outstanding Supporting Actress in a Comedy Series.

Vote in the poll below and then sound off in the comments!

Dan Forcella is a TV Fanatic Staff Writer. Follow him on Twitter.

Tags: Emmy Awards