How can you go wrong when an episode of Rookie Blue begins with a well-sated looking Andy rolling over in bed and muttering "Holy Moly" to a smugly grinning Sam? I don't think I could have asked for a better way to start "Leap of Faith."
Then it got even better with Nick looking on as Oliver rocked out in the squad car. Even the witness in the back started singing along. Too bad that guy's day was about to get a whole lot worse.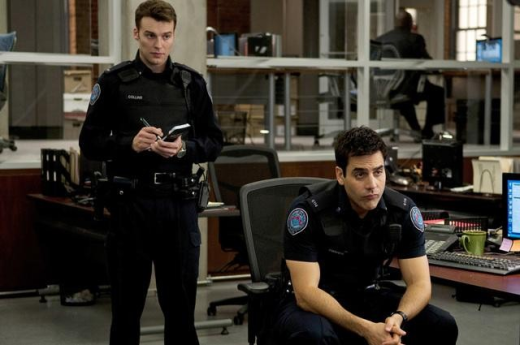 Nick was definitely taking his lumps as a rookie. He looked mortified at having the witness abducted right in front of him. Then when he finally got a break in the case, Jerry and team ran with it, leaving Nick behind looking like a lost little puppy.
The psychic was great - but not because of his ability to lead them to their witness. That was an interesting plot twist, though that's not what got my attention.
I loved his insights into everyone and their relationships. When he first told Andy that Sam wouldn't say I love you back I was a little mad. It just seemed hurtful but in the end it worked out. Andy realized it wasn't what mattered.
The look on Noelle's face when he told her she was having a girl was adorable. It was pure joy. I only hope she's calling her sister now. It sounds like this baby will be coming early.
Jerry surprised me with that proposal in two ways. First off, I didn't think he would be the one jumping in for marriage number two. Then he delivered a line I never thought I'd hear from Jerry in this Rookie Blue quote…
 You've just got to believe in the unbelievable. | permalink
So Jerry's more of a romantic than I thought. That said, I still believe the psychic. I don't think these two will make it to the altar.

I was disappointed to see Sue go. Bomb Squad Betty has grown on me this season and although I didn't think she and Dov were a long-term match I expected them to last longer than this. 

After 10 days without seeing one another I suspect that she saw the writing on the wall, but then Dov helped her with her testimony and everything felt so normal. I could understand why Sue was upset. Despite Dov's obvious avoidance, the afternoon spent together had her feeling blindsided by the breakup.

I was impressed with Gail. Her tough love speech was given in quirky Gail fashion but she was truly trying to be a good friend to Dov. I hope that someday these two find their way back to one another. 

Finally, Andy told Sam she loved him... and it didn't matter whether he said it back or not. She needed him to know and it was sweet and funny and McNally looked adorable when she told him. 

And even though Sam didn't return the sentiment in words, he was positively glowing with love and happiness. So with that, my shipper heart is in its happy place. How about yours?

C. Orlando is a TV Fanatic Staff Writer. Follow her on Twitter.

Tags: Rookie Blue, Reviews