The Secret Life of the American Teenager Review: The Power of Suggestion
by Leigh Raines at .
Up until this point, I've given a lot of sympathy to Amy and Ricky regarding wanting to play down their wedding. But "Lies and Byes" changed it all for me.
I guess I was naive in thinking that Amy's only reason for eloping was to escape feeling overwhelmed.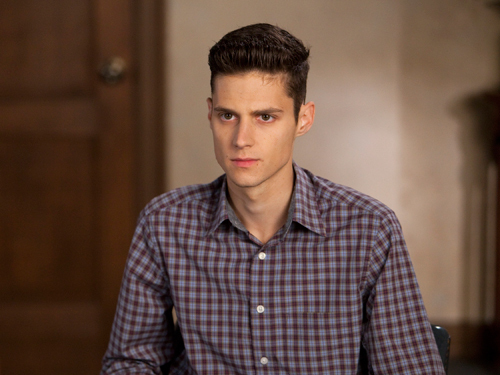 Speaking of overwhelmed, this boy in the above photo is breaking down. Seriously, why is Ben Boykewich not in therapy? I know Leo said that he needs to fix his own problems from now on, but the kid just confessed to a crime he didn't actually commit. Can someone please deal with Dylan already? Just because you're a virgin doesn't mean you are more trustworthy. I just want to slap her. 

For less idiot quotes, check out our The Secret Life of the American Teenager quotes section. 

Back to Amy and why she doesn't want the wedding: She doesn't want her mom there because she isn't comfortable with the fact that Anne is gay. Really, Amy? After everything that Anne has done for you? I am super disappointed. If you want to get married, do it for you and not anybody else. Elope because having a big reception isn't important to you and you just want to tie the knot with the one you love.

Also, why is everyone so hellbent on throwing a party for two kids who don't want one? I'm not a parent so I'm sure there is a large element I don't understand. If I got married without telling my parents, I'm sure they'd be pissed. I understand wanting to be there for your loved one's celebration, but I am so over this wedding.

I'm also over Grace and her attempt to convert everyone to Christianity! Leave it alone woman! We have freedom of religion in this country, stop trying to force everyone to conform to your beliefs. I'm not surprised Adrian wasn't willing to forgive her that easily. I also don't blame Adrian. Grace dumped her as a friend for a crappy reason and Adrian deserves better friends.

It seems like Adrian couldn't do anything right this week. Why did Omar report what Ben said to him in the heat of anger? Sure, it was obnoxious of Ben, but now Omar is going to be subject to an investigation that really isn't necessary.

Amy and Ricky were my favorite part of the show, but right now they should take a backseat. They could talk about this wedding until they are blue in the face and nothing will change for like at least two seasons. I'm over it. Let's get this trial started and clear Ben's name! Also will we see Ashley again? 

What did everyone else think of the latest Secret Life episode? Are you all feeling as exasperated as I am? Hit the comments!

Leigh Raines is a TV Fanatic Staff Writer. Follow her on Twitter.

Tags: The Secret Life of the American Teenager, Reviews
From Around the Web