Going into the summer finale, viewers had the questions as Michael: Who is Tyler Gray? Is it Rebecca's brother? Is it someone we've met? 
Surprisingly, we received part of that answer in the first five minutes of "Desperate Times," as Tom Card showed Michael a video of Tyler Gray breaking into a warehouse in Panama. While Card couldn't send an official team down to Panama, he could allow Michael and the Scooby Gang to go (off the books) with Agent Brady Pressman - who led the operation that Nate died on - to capture Gray.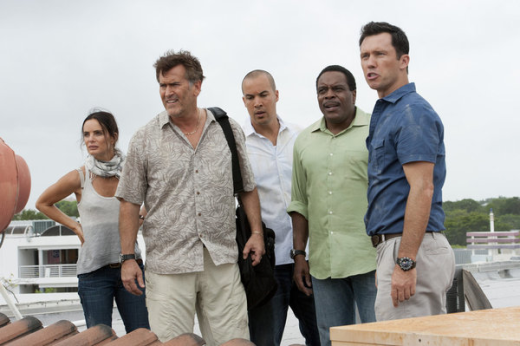 Of course, things are never simple when it comes to Michael; he is up to his ears in regret. To start, he's thinking about leaving the CIA, and who could blame him? He's worked to get back in, but to what cost? Then there's Madeline. She blames him, blames herself, and blames the CIA. I feel for her. She has so much anger and can't figure out how deal with it. 

Okay, she eventually finds an outlet in the form of blackmailing Card to learn about the events surrounding Nate's death. Her conversation with Card about Nate and Michael - where Card gives her the analogy of bottles breaking differently - followed by the reassurance that everyone Michael has helped has her to thank was amazing. I had a full on man-crush on Card right at that moment.   

Regret aside, Michael and company managed to overcome a lot of obstacles to get their hands on Tyler Gray. Then the other shoe dropped: Gray was sent by Tom Card to kill Michael. To assure we had no doubts that Tyler's intel was good, right after Card told him to stay put, the entire building was bombed by an F18.

I had said that we would shocked when we found out who killed Nate. I initially thought I was going to have to eat my words when Gray was shown and looked like a nobody. Then Matt Nix played his last card and trumped me with it being Card, who was behind some (if not all) of the events around Nate's death.

WTF!? I haven't been this shocked in a reveal since I found out who shot J.R. Talk about one of the best cliff-hanger episodes EVER! Mr. Nix, I owe you a drink of your choice. Well done! 

What did you think of the summer finale? Did you like the twist and turns? Can you believe we need to now go months until a fresh Burn Notice episodes?!?

Jim G. is a TV Fanatic Staff Writer. Follow him on Twitter.

Tags: Burn Notice, Reviews
Want more Burn Notice?
Sign up for our daily newsletter and receive the latest tv news delivered to your inbox for free!
More From TV Fanatic
Aria finds some interesting clues as she begins volunteering at Radley while Hanna continues to struggle with Alison's return.
With Maura away, Jane must rely on Susie's help to solve the perfect murder on Rizzoli & Isles.
Royal Pains Season 6 Episode 7 When Jeremiah helps out one of her burlesque friends, he grows closer to Vivianna. Paige learns something...
April misses an opportunity on Chasing Life, but can another make up for it? Brenna learns about Natalia Ortiz, which sends her into Greer's arms. Read the review for more.
---