Falling Skies was juggling a great many balls on its Season 2 finale, "A More Perfect Union." And I'm not sure the series caught many of them successfully.
After last Sunday's arrival in Charleston, the drama set us up with a military coup and a looming Skitter attack. Early on in the finale, meanwhile, Ben returned, Tom was placed in custody alongside his former professor, only for the Second Mass to voluntarily go after the alien Overlord... which followed an Army-led attack against the Skitters and, oh, right, we learned Anne was pregnant.
A lot was thrown at the viewer in the course of just a few minutes; too much in my opinion. It made for a frenzied final episode of what's been a mostly focused, terrific season for Falling Skies.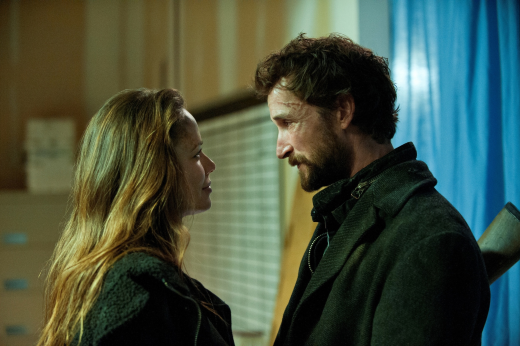 The battle itself was impressive. The special effects team has been on its game from the premiere and it was no different here, as we witnessed Red Eye going after the Overlord and Karen deftly climbing up a wall.

She warned that the war was far from over and then proved to be prophetic when the episode concluded with the arrival of a new creature. My reaction to what the show intended as a significant, fascinating cliffhanger? Meh.

It's clearly impossible to actually judge until next season, but for now it feels like we've been here, seen this, done that. That's the problem with a series based around an alien invasion: where can it actually go? You either defeat the aliens and the show is over... or you don't and new ones simply continue to touch down.

It's an anticlimactic cycle of invade... retreat... attack... scramble... attack again.

Perhaps I'll be proven wrong. Maybe this new being has an agenda outside of ending the human race. But I can only react to what I just saw and it didn't make me especially anxious for next summer. We've spent two seasons watching the Second Mass go at it with their enemies. The tease of more enemies to encounter isn't one that leaves me wanting more.

I am intrigued by whatever is literally bugging Hal, however. Is he remaining human, yet going dark? Is there an alien presence inside of him, as opposed to one harnessed on his back for all to see?

Still, overall the final two episodes were a letdown. They were too scattered, with both the Army General and Arthur Manchester not really painted as good or evil or even anything in between. It wasn't clear what the viewer was supposed to be rooting for or thinking of the entire Charleston community. Ben went from abandoning his family in favor of the Skitter one moment... to eagerly sticking around and playing Monopoly the next. All in one episode.

It was all a bit rushed and jammed together. Let's hope TNT gives the series 12 episodes, as opposed to 10, next summer in order to let some of these storylines breathe.

Despite my criticism of the finale, I'll most definitely be back for Season 3. The good - Noah Wyle's performance, strong effects and action, unexpected alliances and pivots - far outweighs the bad.

What did everyone else think of the finale and season in general?

Matt Richenthal is the Editor in Chief of TV Fanatic. Follow him on Twitter and on Google+.

Tags: Falling Skies, Reviews