Margaret Cho Previews Drop Dead Diva Episode, Introduction of Lady Bodacious
by Jim Halterman at . Comments
Drop Dead Diva fans, prepare to meet... Lady Bodacious!
Margaret Cho's Teri will introduce this alter ego on Sunday's "Ashes to Ashes," and she discusses the eccentric singer in this exclusive interview with TV Fanatic's Jim Halterman.
Where did the inspiration come from? What else can we expect from the episode? Read on. Find out.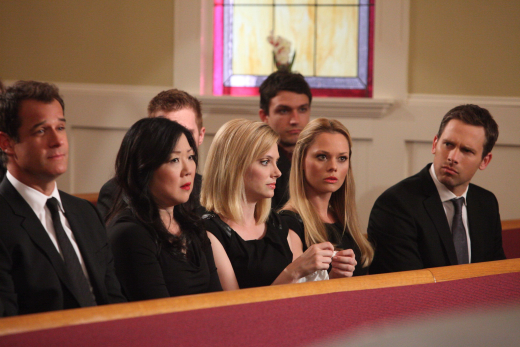 First, I was wondering, you've done so many things in your career but is Drop Dead Diva the longest gig you've had?
Yes, definitely! Outside of stand-up comedy, of course, but as a solid acting job, yes, totally. I have never even thought about that. Going back to work on a show for four years and you go back for your fourth year to play your character…fifth year since we made the pilot the year before.

We get to meet Lady Bodacious in this week's episode.
Yes! I get to do some music on the show and that was really fun.

Do you have an on-stage persona like Lady Bodacious when you perform in real life as a singer and musician?
Yeah, I think so a little bit. A lot of what I do as a comedian is pretty much myself and not in a persona.

The opening scene in this week's episode is one of those rare scenes where the entire Diva cast is together. How was it filming that?
It rarely happens but it's always fun to get the whole cast together. We all have a great time hanging out and we're usually together anyway since we all commute to work from LA to Atlanta (where Diva shoots) every year so it's nice to get together and hang out.

And I've missed them, but you haven't done a big musical number this year, right?
I have a couple musical numbers but it's not a big dance number this year.

Do you think that's because the show is getting a little older and we're moving away from that?
I don't know! I really enjoy doing them and I don't know what it was but it was fun to make them.

I've been a fan of the show a long time and I know the Jane/Grayson relationship has been there from day one. Would you be patient for love this long? I don't know if I could wait that long.
I think true love is everything and Jane has had boyfriends in between so it's not just the one. She's had a lot of choices.

Does Teri have any new romance coming anytime soon?
Well, no, but I'd love that. I think that's something that's got to happen at some point. I think it would be a great thing for her. She's never had a serious boyfriend so that would be amazing.

The episode this week also has a story about the afterlife. Do you believe in the afterlife and listening to your dreams?
I do! But it takes more effort, I think. I do believe in it but if I was recording my dreams I'm sure I'd pay more attention to them. I think all of that stuff is really cool. I believe in it.

You're not on the just-announced cast of Dancing With The Stars: All Stars but it would've been fun to see you and Louis [Van Amstel, her partner in Season 11] dance together again. You were so cute together.
Thank you! It was so fun and I have a lot of respect for anyone that is involved in that show. It is a tough, tough, tough thing. It's a dance contest, it's a game show, all these high-pressured things that put together are so terrifying!

What's making you happy these days and what's bugging you?
My Toms, which I wear all the time in the summer but my Toms Tan is freaking me out because I have a half white foot, half brown foot. It's like I dipped my foot in white chocolate. It's so white! So that really bugs me!

Drop Dead Diva airs Sundays at 9/8c on Lifetime. To keep up with Margaret's music and stand-up tour dates, visit her website, www.MargaretCho.com.

Jim Halterman is the West Coast Editor of TV Fanatic and the owner of JimHalterman.com. Follow him on Twitter.

Tags: Exclusives, Interviews, Drop Dead Diva