"Cold Comforts" featured the aftermath of Jerry's funeral, and everyone at 15 Division dealt with the loss in their own way... some better than others.
In this edition of the Round Table, TV Fanatic staffer Christine Orlando is joined by Kathryn, Nathalie, and Jo. L from the Rookie Blue Two Worlds Collide Fan Forum, as they share the best memories of Jerry, debate the best quote of the night and decide whether Sam was justified in breaking Andy's heart.
-------------------------------------------
What was your favorite scene?
Jo. L: The scene in the Black Penny, where Traci reads Jerry's wedding speech with assistance from Gail to their 15 Division family.
Nathalie: It's a tie again between Sam/Andy at Dale's apartment and Gail/Luke at the hospital (when Luke gets there). It had the tidbits of humor that were very much needed in that emotional episode.
Kathryn: Every single frame was pretty much perfect, but the Traci/Gail hospital talk, the speech reading, the McSwarek break-up, and the final toast really killed me.
Christine: For me it was Gail and Traci at the hospital. They're both in such pain and Gail's honesty and Traci's fortitude made it a very powerful moment.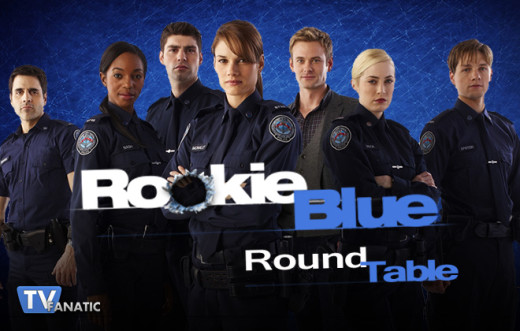 Is Sam justified in breaking up with Andy?
Jo. L: I think so. Since they are both police officers - their lives are at risk every time they go on shift. After losing his best friend & he sees Traci dealing with the aftermath, he can't stand to lose the woman he 'ultimately' loves. So I see it as his way of dealing with grief and to prevent heartbreak.

Nathalie: No, he's clearly taking it out on her. I get what he's saying and he's not wrong but instead of running (for once, Andy's not the runner) from what he's (and they all are) going through, he should face it and deal with it.

Kathryn: I can't give him that, and I think he's going to regret it. The most generous I can be is to say his reactions were partially understandable. But I don't get the way he seemed to flip a switch between being entranced by pretty much everything she did to seeming like almost everything about her drove him crazy. He's clearly being crushed by guilt and pain, but there's more to it than that, and he's got me pretty baffled. I have a few theories, but I really don't know what's going on with my favorite TV character, so I hope the writers shed some light on that soon.

Christine: He's in a great deal of pain and people don't always think clearly when that happens but he just blindsided Andy and she's in pain too. If he had told her he needed time and space to process everything, that I'd understand but dumping her and walking away after everything they've been through was just cruel.

What memory of Jerry did you like the best?
Jo. L: There are quite a few that stood out - My favorite memory was the photo from his desk that Chris found: Sammy, Oliver and Jerry.


Nathalie: What Oliver said about Jerry buying him underwear, I cracked up at that one!

Kathryn  Ooh, they came up with so many great ones. Probably the pedis with his mom and the underwear intervention for Oliver. Gotta love a man who gets rid of tighty whities.

Christine: Traci saying, "Jerry, who proposed to me by engraving it on the back of a knife." It hurt and made me laugh all at once.

There were so many great Rookie Blue quotes from this episode. What was your favorite?
Jo L: Traci's "Please everyone, and uh just raise a glass to my husband."


Nathalie: From Jerry's speech "Until the day I die, you hold the key to my heart". Traci will hold the key to his heart forever.

Kathryn: Another really tough choice. Tie between Oliver's "You're not going to be one of those lactavists, are you? " and Andy's "Just a girl looking to buy some wood pallets. Nothing weird here."  I also really loved the timing of the whole cynic/gullible exchange between Sam & Andy and Sadie asking for Sanctuary. she's a riot.

Christine: Oliver's "Tomorrow we're going to wake up and the world's going to expect it to be like any other day." Because it's so true.

The show had some really great pairings in this episode but which of them made you cry?
Jo L: Sam and Andy. The scene outside in the rain totally made me bawl, as I've been there before.


Nathalie: And as much as Andy crying after Sam broke up tore my heart apart, Traci & Gail made me cry (Gail at the hospital, when she couldn't look at Traci, opened the way for my tears until the end of the episode).

Kathryn: Traci/Gail and Sam/Andy were the ones who made me cry. The former because I felt like they truly needed each other to not completely fall apart. Gail needed absolution and Traci needed to believe Jerry's sacrifice wasn't for nothing and that Gail would recover. Sam and Andy made me cry because they're in so much pain and at such an impasse. I really don't know how the writers our going to right my favorite ship; and if they don't, I'll be truly heartbroken. Good thing they're more clever than I am. ;)

Christine: Traci and Gail broke my heart but it was Sam and Andy who made me cry. It was the heartbreaking, helpless look in Andy's eyes when she realized there was nothing she could do but let Sam walk away.

C. Orlando is a TV Fanatic Staff Writer. Follow her on Twitter.

Tags: Rookie Blue, Round Tables