As fans anxiously await the start of Castle Season 5, I chatted up Susan Sullivan on the phone today, asking the actress behind Rick's larger than life mother about the episode that almost got her killed and why she thinks the curse of Moonlighting will finally be broken by this ABC smash...
-------------------------------------------
As the season opens, is Martha in the dark like everyone else about the new relationship between Castle and Kate?
Yes, but you know Martha's a pretty wise, experienced old soul. I doubt that she would stay in the dark for too long.

Why would Castle keep it from Martha? It seems as though his mother is the one person he actually confides in.
Yes. There you go. Well, I'd really be ruining it if I told you. It's a very charming turn, the way that it all comes to the surface. And you're right. They do have a unique and special relationship and part of what makes any show or book or piece of art really work is the truthfulness of it, number one. And truth always has within it and characters always have within them contradictions.Of course Martha and Castle and all of the characters are loaded with contradictions.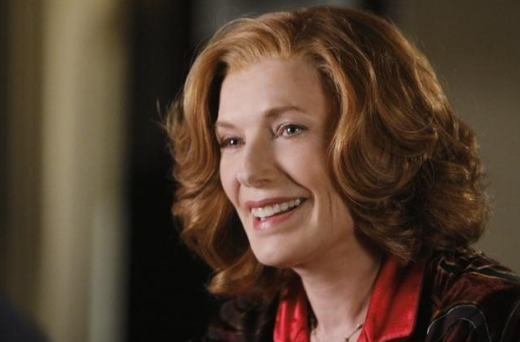 Behind the scenes, does it feel like there's a new dynamic on the show now that Rick and Kate are finally together?
I think the dynamic behind the scenes as far as people connecting together and playing the moment, those are essentially the same. Whether it will be the same for the audience or not, I don't know because there's something very compelling about longing.  You long for something and then you get it and invariably you go Oh, this was it? 

That's the fear when you have people come together but from the first five scripts that I've read, I think they are handling this brilliantly. I am so impressed. I remember I read the first episode and I went to the writer and I said the curse of Moonlighting is broken. They've moved it to another dynamic and you can just feel that it's going to have its own life and it's going to be as interesting a life, just in a different way with the two of them now connected.

Most of your scenes are at the loft, which looks like a lovely place to spend time, but…
Oh, honey, let me tell you. If I were to have written out, which I recommend that people do, by the way…exactly what they want in life, in detail. I'd like to have an elegant apartment in New York with a patio, step down living room, wood burning fireplace you know, be detailed. I would have written in for this period of my life to have a part where I didn't have to work too much. Where the hours weren't too long and I had a great set to sit in. And I got it.

Would you like to have Martha get out more, like she did in "Cops & Robbers" last season?
You know that almost killed me, that episode. Seriously, I had a terrible car accident. What was interesting about that show for me, was that those were the long 15 hours days. It was a very demanding episode, sitting on the floor. All that kind of emotional stuff.  Up, down, up, down. I did not drink that whole week, not that I'm a big drinker. I usually have a glass of wine. I had no wine and I had no sugar and I was feeling really terrific. I'd worked every day that week which is the first time I've done that on this show. On that Thursday night, we finished around midnight. I got into my gorgeous little Jaguar and on the freeway I hit one of my fellow crew members on Castle.  There was an accident and everybody stopped and I just slammed into him. Totaled my car. Fortunately I didn't kill anybody, including myself. I think they will never have me work those kind of hours again. 

The vast majority of your scenes are with the characters of Rick and Alexis. With which other character would you like to spend more screen time?
Oh my God, I'd love to act with everybody at this point. Even though I know everyone, I barely see them.  I think I've had one scene with Stana, maybe two. Slight, like three or four line kind of things.  I'd love to have a scene with her.  I'd love to have a scene with Penny.  I'd love to have a scene with Tamala.  We've discussed this and pitched storyline possibilities.  I thought maybe if Martha was working on a character for a movie and went to interview Penny because she was going to be playing a character somewhat like Penny and that kind of thing. 

The other idea I had was in order to do exactly what you are talking about, to meet the other characters, for Martha to be writing a book the way Castle writes the meta books. She would write a book, I don't quite know what it would be about but she could interview all of the people on the show. That would give her the opportunity to have a scene with each of the characters and drive her son crazy by tip toeing into his arena of publishing books. But you know, I've pitched it. They'll either do it or they won't and that's OK too. That's on my mind, honey.

You've done so much in your career.  Have you had a favorite or a most challenging role?
I've had a lot of them, mostly in the theater and that's what I'm here in New York doing, a reading and it's interesting to be in on a new play where you actually have input into the character.  It's a very interesting character and so this is kind of what actors really long for. To create a character along with a playwright and a director. That's where I am right now. I came to do a reading of it and when you do a reading it's part of the developmental process of a play, not reading for the part. It's a play called Love and Class in Connecticut. It's a really interesting piece. We'll see if it comes to fruition down the road. I will definitely keep you informed.

But I would have to say, probably the Tennessee Williams play Glass Menagerie. That character was really interesting for me to play because first of all I didn't think I could do it. I didn't think I had the right quality for it and then found that it was very close to a lot of aspects of my personality. 

I've heard that at one time you dated Cary Grant?
Yes. In New York City. Oh my God, it was years ago. I was in my 20s. I was invited by somebody, back then they were trying to just get young, pretty girls at a party.  it was this very fancy, elegant party on the East side and he was there.  Somebody introduced me to him and we talked.  Of course I was starstruck.  He was in his 60s at that point and I was in my 20s. He was elegant and charming and to me, old.  He called me and invited me to dinner.  Of course when he called and it's Cary Grant on the phone and I thought, OK who is it? Come on. Come on. Don't play with me. At any rate, we went out a few times. He told me I shouldn't be an actress, that they were all neurotic. So I thought well, I'm not listening to him. Katherine Hepburn's neurotic?  He said, Oh my God. Of course. 

Speaking of dating, are there any new men in Martha's life this season?
I am hoping so. In fact I pitched the idea. I thought it would be fun, that Martha might have a crush on Beckett's father. That would be fun I think, and he (Scott Paulin) is a really nice guy and a good actor.

As a whole, the show has such a strong online presence. Do you think that it influences actors and show creators?
Well, I hope not since I don't have one. I know that they probably would be like it if I did that. You know, that's an interesting question. First of all, I think the character is who she is.  She comes in, in this kind of wonderful, unique way. I think she's a role model character for where women go in life as they move down the road and how to stay alive and relevant and not marginalized. So on that level, I think it would probably behoove me to be a little bit more current and tweet and Facebook and do all of those things because I do have thoughts and ideas that I think are unique to where I am on my own journey. It would be interesting to share.

I remember, years ago some actress, and it might have been Elizabeth Taylor turning 50. I looked and I went, 50 wow! That's not so terrible. And now actresses that are turning 70 and still working or God love them, 80 and still work. That's what I want to know about now. It can't hurt at 40 to know that 70s not so horrible a place to get to. That's a long winded answer by way of saying I don't know whether I'll do it and yes, I think I should. I think it would probably help the show and me, personally to do that.

Is there someone you haven't worked with that you'd like to?
Oh, there's so many people I haven't worked with that I'd really like to. It would be a very long list. The first one that pops to my mind because I have seen him over the years and kind of know him marginally but have never worked with him but think he's such a brilliant actor is Al Pacino. Isn't' that an odd one out of nowhere.  But there's so many brilliant actors that I'd like to work with.  But he's the first one who popped up in my computer brain.

What would you like to see for Martha this season and beyond?
I kind of like Martha's direction. She is in my mind and was when I created her, an homage to my own mother who just died in November. I've thrown some of my mother's lines like You is who you is and if you ain't who you is, who is you? My mother would also sit on the park bench here in New York and if anybody sat down next to her she would find out who they were and help them with their lives whether they wanted it or not. So that's a little bit of who Martha is to me. It's really been a great joy and a gentle gift to be able to play her. Wherever she goes, it's fun for me.

C. Orlando is a TV Fanatic Staff Writer. Follow her on Twitter.

Tags: Castle, Exclusives, Interviews, Susan Sullivan