Charlotte Grayson is alive! Probably. Possibly. In all likelihood.
I spoke with Christa B. Allen last night, who was understandably coy about the status of her character on Revenge - last seen overdosing on the May finale - but she did laugh and at least spill:
"I have work in the morning."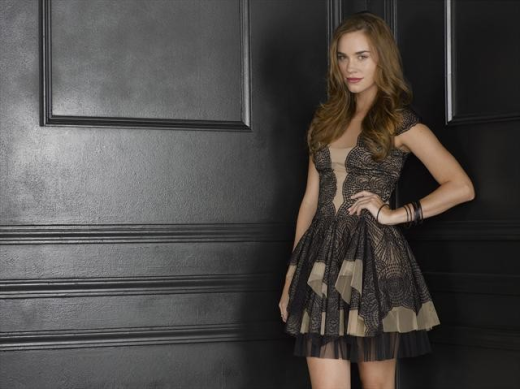 Might the character be deceased and the actress filming a flashback? Absolutely. But the latest Revenge clip from Sunday's Season 2 premiere appears to prove otherwise.

The return episode kicks off with "the revelation of a dead body," Allen teases, with the next set of installments dedicated to identifying the corpse and figuring out how it arrived at its destination.

And that sort of discovery won't just be reserved for the dead, either.

"Charlotte does a bit of research into her past," Allen says of what's to come. "We learn more about how we got to this stage."

But while a lot has changed in a year - seriously, scroll back up and watch that linked-to clip! - life within the Grayson household won't be all that different this fall.

"Much along the lines of the first season, you see how Charlotte is moved around by her parents," Allen said. "It strengthens the story of last season and proves again how twisted of a family the Graysons can be."

Can the actress be more specific? Are there any Revenge spoilers she can reveal? Sort of. There's a prop she told me was sitting on her dresser, something from an upcoming episode. What might it mean? That's anyone's guess. What is it?

A check made out to Daniel Grayson from his parents. For $746 million.

Revenge Season 2 premieres Sunday night at 9/8c on ABC.

Matt Richenthal is the Editor in Chief of TV Fanatic. Follow him on Twitter and on Google+.

Tags: Exclusives, Interviews, Revenge, Christa Allen