In a "A Town Called Mercy," where everyone gets a second chance, was it any surprise that the doctor the Gunslinger was looking for was going to be a killer? Nope.
But it sure was a shock to learn it was the gunslinger who was the good guy, the put upon, the victim. The other doctor, the one they were looking for was a bigger monster. Having two doctors, who had so much in common and were yet so very different, set out a great path for this episode and the season.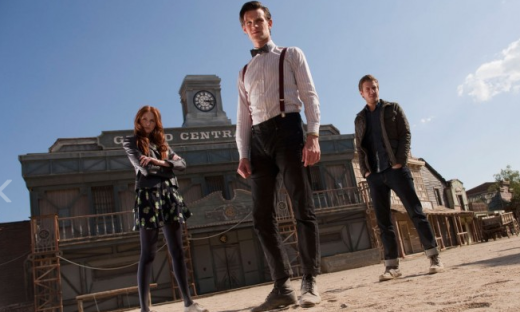 I really liked Marshall Isaac and how he grappled with the "good" Doctor Jex did for Mercy and the "evil" he did on his planet. That seems to be going around on Doctor Who, as The Doctor himself is having a painfully difficult time reconciling his place in the universe.
The Dark Doctor you all so diligently pointed out was back in "Dinosaurs on a Spaceship" was back and not hiding what he was becoming. His tolerance for seeing evil committed against innocents had diminished greatly. Although he didn't know if he would shoot Jex to get him across the town line and into the line of fire of the gunslinger, I was pretty sure he would have done it if Amy hadn't interfered. 
The Doctor: Today I honor the victim's first. His, the Masters, the Daleks, all the people who died because of MY mercy. | permalink
It was great hearing from his own lips from where the darkness emerged. In the quote above, The Doctor shared with us all the pain he has bottled up inside as his negotiations with races across many universes still resulted in the deaths of innocents. Only Amy's input could bring him back from the edge, and it proved just how important it is to The Doctor to have a constant companion who is at his side. 

We can see what The Doctor is giving up of himself in giving a normal life to Amy and Rory, even though Amy still pretends to be wounded at being left behind. She doesn't put up so much of a fight that she's willing to put her life aside, not go "home" for a few months in between Doctor rounds, and who could blame her? She gave so much of her life to The Doctor. Her childbearing years, her daughter and almost the love of her life. Each week the decision becomes harder for her to make, and yet easier for viewers to see.

She needs to let The Doctor go, not only for her own peace of mind, but to protect The Doctor and allow him to continue his mission in safety and without malice.

Personally, I would not want to be in the shoes of either The Doctor or Amy.

What's really difficult with reviewing this season of Doctor Who is knowing what's to come. In a way, I wish the casting decision had been kept quiet and we could be discovering all of this without the knowledge that an ending and a new beginning was inevitable. That's not how The Doctor works, though, is it? We always know when a new Doctor is coming and when companions are changing. 

As we count down the next two episodes before saying goodbye to the beloved Amy and Rory, I hope the Dark Doctor takes a backseat to their changing relationship. To wind down such an incredible journey with worry and fear about what separation might mean to them wouldn't be fair to the memories of their many great adventures together.

It feels as though the season has only just begun, yet we're two mere two episodes away from the mid-season finale and what could be a very emotional farewell.

Carissa Pavlica is the managing editor and staff writer for TV Fanatic. Follow her on Twitter and on Google+.

Tags: Doctor Who, Reviews