And... we're off!
Glee Season 4 premiered last Thursday with a long visit to New York and the introduction of several new characters. What did we like best and worst about "The New Rachel?"
TV Fanatic staff members Leigh Raines and Miranda Wicker are joined for this edition of the Round Table by reader Suzanne Davis (follow her on Twitter!) as they discuss Rachel's New York state of mind, along with her possible replacements at William McKinley High. Read on and then sound off below...
-------------------------------------------
What was your favorite scene from the premiere?
Leigh: I love when Kurt surprised Rachel when she was finally breaking down in NYC. I got teary eyed at seeing those two reunited at the fountain in Central Park.
Miranda: The Burt/Kurt scene in the car at the airport. Burt's the best TV dad in the history of TV dads and any time I can get a scene with the two of them, it'll be my favorite.
Suzanne: My favorite scene was also Kurt and his dad at the airport, if by "favorite" you mean "one that had me sobbing like a baby." I might cry now just thinking about it. There's something about sending a kid off - whether it's my kid to preschool or an imaginary character on an extremely unrealistic musical TV show - that punches me right in the emotions.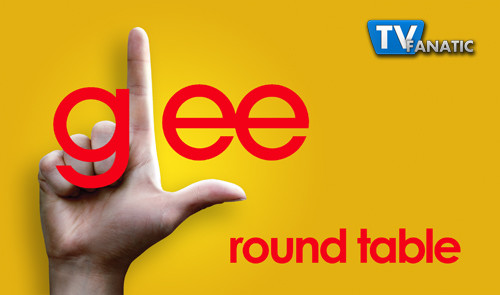 What was your favorite performance?
Leigh: Oh, hands down Kate Hudson's "Americano/Dance Again" mash up. I was awestruck. She was insanely perfect.

Miranda: Blaine singing "It's Time" by the Imagine Dragons. One, who doesn't want to go to a school where the entire courtyard can randomly burst into song and dance?!? And, two, I just love Blaine.

Suzanne: "Call Me Maybe." I'm a sucker for an overplayed pop song.

Continuing with the theme of favorites, who's your favorite new character?
Leigh: Hmmm, undecided but I'm intrigued by mini-Puckerman. I had a feeling it was him right from the get-go when he wouldn't give his last name.

Miranda: I like Marley. She's so unassuming and genuine, but she's also got some moxie. I'm hopeful that the writers will do great things with her.

Suzanne: Cassandra July is my favorite, even though she's a little bit ridiculous. I mean, she might be the most shallow and uninteresting character ever written into the show (or maybe that's New Quinn?) but Kate Hudson is just so pretty.

Should the "New Rachel" be one of the existing cast members or a newcomer?
Leigh: Personally, I thought it should've been Tina. Attitude aside, her voice blew everyone else away.

Miranda: See my love of all things Blaine. Even his bowties and sweaters. I was happy with Artie's "choice." He's got charisma the others don't have.

Suzanne: I actually hope they don't create a New Rachel. I'd love to see Britney get more performances and the new girl is a great soloist, but I think the way Rachel dominated almost every episode was dragging the show down a little. Let's have EVERYONE be super dramatic and flouncy.

Do you think the show will be able to sustain both the high school AND New York story lines?
Leigh: The jury is still out, but here's hoping! As long as the newer characters are able told hold their own and can transition well in with the old McKinley crew, there is definitely hope.

Miranda: My favorite parts were the New York scenes, so part of me hopes they slowly ditch the high school. But then it wouldn't be Glee, so I'm hopeful they'll be able to pull this off.

Suzanne: I hope so! Although they only have to do it for, what, one more year? before everyone graduates. Once the school isn't there to physically relate all the characters to each other I think they will have a problem keeping it going. Remember what happened to Saved By The Bell?

Tags: Glee, Round Tables