Hell on Wheels is a heavily dominated male show.
Certainly, the era and the locale make it hard for any woman to find a sure footing or even a voice. It's pretty much an uphill battle. Just think about Lily's efforts to rally the men after Durant had left.
She was probably the only female there you could claim had some handle on power, but even she ultimately was able to gain/maintain it because of her relations with Durant. Which makes Lily's lack of control even more evident when she gets pushed out of her position.
As for Ruth and Eva, they've had certain moments where they've tried to shine, but ultimately, they are still at the whims of the men around them. Truthfully, I find their characters to be kind of annoying and have more or less become simply the objects of the men's desires. I wish the show would find a way to make them more than that.
But it was a pleasant, pleasant surprise to get a confident, memorable and commanding screen presence from Durant's wife, Hannah, played by the talented Virginia Madsen.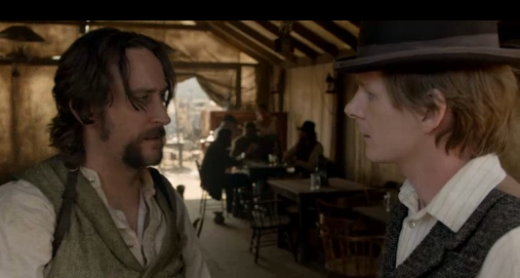 She brought a great edge to the show, even overshadowing her husband's presence. Her first reveal behind the door said so much from her few words. So of course as the episode progressed, we dug deeper into her character, revealing someone as charming as she was cold.

Not only did she call out Lily for sleeping with Durant, but she kicked her out of her own place. And then when Lily said she had no place to go, Hannah responded, "You're a smart girl. You seem to know your way around. I'm sure you'll find something." Harsh!

Truly, Hannah's presence sent the town into a tailspin, which seriously affected the love triangles (if you can call them that).

Sean McGinnes is still vying for Ruth's love (I don't know why) and yet she wants nothing to do with him. I wasn't sure if he would hurt her at one point. But does she still loves Joseph? And has he moved on? What the heck happened to him out in the wilderness?

Mr. Toole is trying to maintain a relationship with Eva, even if there is that undeniable strain between them. I'm surprised he's stuck around so long. I just can't see them together.

Of course, Ferguson is trying to build his happy home for himself and Eva, but does she still want him? And now Durant seems to be standing in his way of that.

But it was the awkward dinner with Durant, Hannah, Lily and Bohannon that took the cake. Not only were there uncomfortable stares and comments, but we learned that Bohannon was from a more well to do background. When Hannah asked Bohannon to walk her back, I half expected her to make a move on him for some kind of payback to her husband.

Hannah is a force to be reckoned with and I wonder if she has more say over how the railroad goes than Durant himself. Did she ask the Swede to sabotage the construction?

As soon as I saw the Swede just watching and sitting, I knew something bad was going to happen. Good for Bohannon setting fire to his tent. These two really need to square off man to man soon.

But it seems more likely that Ferguson will face off with Bohannon.

The two have managed to have something of an amicable relationship, but it sounds like Durant made an offer against Bohannon. Does he want Ferguson to kill him? And will he, so he can have the chance to build his home? What is this new job?

Despite Bohannon's distaste for the Swede, things seemed to be running rather smoothly with Durant gone. And now that he and his wife are back, everything has been turned upside down. Is there a positive ending for these characters this season?

A nice change in complacency for the characters and a great introduction of Hannah highlighted "The Lord's Day." It was a decent episode, but nowhere as powerful as last week's episode, which I still think was one of the season's best. The series really does shine when Bohannon and the Swede are up against each other and I hope that the finale gives viewers a great showdown between the two.

Sean McKenna is a TV Fanatic Staff Writer. Follow him on Twitter.

Tags: Reviews, Hell on Wheels