After a co-hosting blitz that included 59 possible partners for Kelly Ripa in the 10 months since Regis Philbin retired, Live! officially debuted its new team this morning:
Michael Strahan jogged out of a SUV, embraced Ripa in a bear hug and was greeted by confetti and balloons as the new anchor of the popular morning program.
"I adore you and I am so happy to be here and be a part of this," Strahan said upon his introduction. "You know how they say it's a dream come true? I truly can't say that because I didn't even know I could dream this."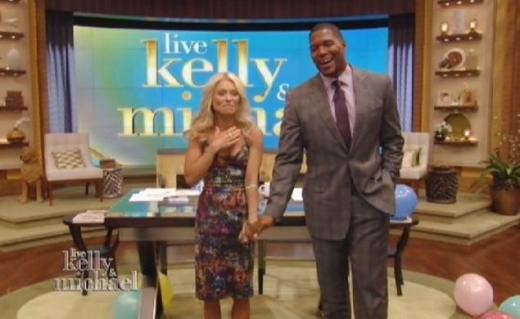 Why Strahan? Explained veteran producer Michael Gelman

"As a guest co-host, Michael's chemistry with Kelly was off the charts, and continued to grow each time he visited the show. The interaction between the co-hosts always has been what makes this show different from any other on television. Kelly and Michael's ability to play off of one another and just plain have a good time together creates great TV for the audience."

Kelly and Michael greeted Claire Danes (Homeland) and Phillip Phillips (American Idol) as their first guests, while the show debuted its new name and logo (bottom left, above).

What do you think of Michael Strahan as co-host?

Matt Richenthal is the Editor in Chief of TV Fanatic. Follow him on Twitter and on Google+.

Tags: TV News