Parenthood star Monica Potter and executive producer Jason Katims are speaking out about the show's latest, heavy plot twist, one that came out of left field at the end of Tuesday night's episode.
Kristina Braverman's doctor's appointment was not a focal point of this otherwise strong, but standard installment, making the closing montage all the more surprising - and powerful.
There was no dialogue. None was needed.
Potter's performance was as Emmy-worthy as anything you'll see this year. The series has never shied away from weighty topics, but how did it decide to go there in its fourth season?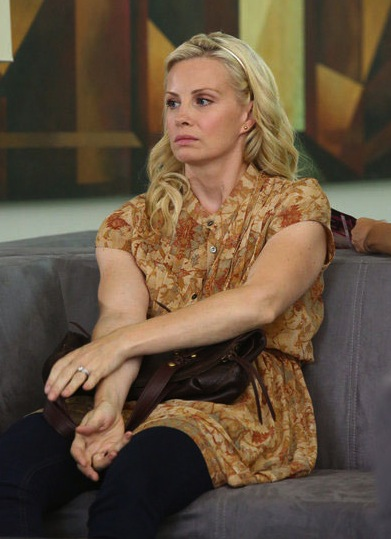 "A lot of women that I know deal with breast cancer - a lot of close friends actually - and I had e-mailed Jason Katims before the season started and I said, 'What if Kristina develops breast cancer,'" Potter told TV Guide.

"I think it's a really timely issue."

Little did Potter know that Katims, inspired by his wife's own battle with the disease years earlier, had already begun plotting the exact same story line in the writers' room, calling it a "wild coincidence."

"This is obviously a very difficult story that has very challenging and emotional elements. So the idea that - not even hearing that it was something that we wanted to do - she was interested was very exciting to me," he says.

"Clearly this was something that Monica was ready to dig into."

With one caveat: "She said, 'I don't want to cry in every scene.'"

Maybe not every scene, but probably more than a few going forward if this week's conclusion is any indication. Don't expect Parenthood to tackle anything half-heartedly or unrealistically, especially this.

Katims admits he was unsure about doing so: "Part of it was for the personal reason of, 'Do I want to go there?' and the other hesitation was I didn't want to do it if it was going to be too depressing or be too heavy."

The show's creator, whose son's struggles with Asperger's inspired the ongoing storyline of Max, Kristina and Adam's son, says that concept felt even more challenging, and gives him confidence to tackle this one.

"Having been able to tell that story now going on four seasons of the show, it gave me the confidence to feel that we could tell this story in a way that will hopefully feel real and that people will think we did a good job," he says.

"Monica is not only such a wonderful dramatic actress, she is also such an incredible comedienne. One of the things that was important to us was that we would find not only the hopeful moments but the humor."

Potter is optimistic fans will find the story therapeutic. "The first two episodes were sort of a punch in the stomach for me to read and I think a lot of our fans will find it to be a little startling," she says.

"But also, as the season goes, I think it will be very cathartic."

Steve Marsi is the Managing Editor of TV Fanatic. Follow him on Google+ or email him here.

Tags: Parenthood, Monica Potter, Interviews