Sons of Anarchy lost one of its own last night, as Opie took a permanent one for the team when he volunteered to have his brains beaten in by The Niners in order to even up their feud with SAMCRO
Why did the FX thriller go down this dramatic path? What effect will it have on Jax?
I just got off the phone with Kurt Sutter, who offered the following explanation for this storyline and teased how its fallout will play out in Charming...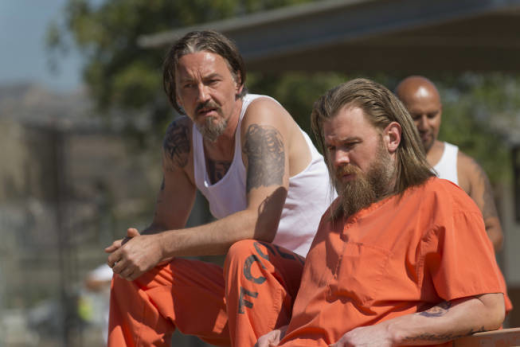 Why did Opie make this fateful decision?

"We had done so much damage to Opie and his family over the course of a few seasons," Sutter said. "And I couldn't wrap my brain around bringing him back to the table at the end of last season… and there is a sense of him having this tremendous loss. So he's thinking: 'Here's an opportunity for me to go out doing the right thing, this is how I can be of best service to my club and even to my family.'

"I wanted Opie to go out a warrior, with nobility and a sense of protecting the people [he still loves]."

How will Jax react to the loss of his best friend? That's the crux of the death, Sutter says. The show is the President's journey, after all.

"Jax needed that emotional upheaval, that one event that happens in a man's life, that can change the course of his destiny… he will be greatly influenced by the death of Opie and that loss, that emptiness will color him for the rest of the season."

Viewers can also look forward to a "new dynamic between Tig and Jax and the Pope of it all," following Jax's maneuvering to free Tig from jail.

"The betrayal [between Tig and Clay] is real. An interesting shift will take place that parallels what happened in Season 2 when Opie moved closer to Clay as a result of his riff with Jax," Sutter teased.

Finally, what does the creator have to say to fans who are still coming to terms with the loss of this favorite?

"I don't do things arbitrarily or just for shock value… yes, it's incredibly sad, but the death of Opie will color the rest of the series. It's not a death that will happen in vain...

"Of course there'll be a sense of vengeance, something that drives our guys to retaliate, but also the emotional impact that his death will have on the rest of the characters will always be there."

Matt Richenthal is the Editor in Chief of TV Fanatic. Follow him on Twitter and on Google+.

Tags: Sons of Anarchy, Interviews