You may not think Drop Dead Diva when you watch tonight's premiere of The Mob Doctor on Fox, but both shows share more than a little bit in common.
They each deal with matters of identity and truth; featured a female lead; and were created by Josh Berman.
Just how much is Dr. Grace Devlin (Jordana Spiro) an anti-hero as she's reluctantly pulled into the mob world? Will Grace find parts of the mob addictive? Because the show follows Bones, a crossover episode seems like a no-brainer, right? To get answers to those questions and more, TV Fanatic's Jim Halterman sat down with Berman recently to dig deep into The Mob Doctor...
-------------------------------------------
TV Fanatic: Identity. Secrets. Between The Mob Doctor and Drop Dead Diva, I see a few similarities, even though they're such different worlds.
Josh Berman: Everything I write is about identity at the core and it's keeping secrets. It's who we are. So, it's easy for me to tap into that part of myself, but here, this is a person whose secret really could destroy other peoples' lives. And so the stakes are so much greater than most the secrets we keep. I always say go up to anybody and say 'do you have a secret right now?' Within 10 seconds, everyone can think of one secret that they're holding, but none of them are usually as big as this. Where else to find such great drama when the secret is this big?
The other thing that I find so interesting [is] all the research that Sony did with women, the character that Jordana plays is so relatable. Yet most women are not in the mob and many of them are not doctors, but the reason it's so relatable is because most women feel they are torn between different responsibilities.
Whether it's work at home or elderly parent and kids, and I think that Grace's plight or her journey is so relatable because of the notion of being torn by two different competing worlds. And never feeling that you can leave either world either because you're beaten... somebody else needs you at every minute.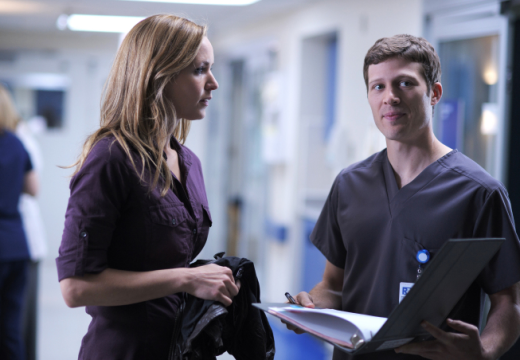 TVF: Thinking of shows like The Sopranos and Breaking Bad, lead characters definitely don't have to be the moral center. What shows are inspirations for this type of character or at least shows that give you license to go there with her?
JB: If you look at House or Damages. where you have anti-hero at the center... those shows start with your hero already being an anti-hero. And to me, I'm like an origins guy. I like to know how somebody got to where they got. I wanted to start at the beginning with this tale. Let season one be The Mob Doctor: Origins. Let's see how this character becomes who she's going to become. Fox and Sony have been so supportive in letting us slowly develop this character. We don't have to start with the big bang of 'oh my God, she's already killing somebody on the table.' How does somebody get to the point where they're willing to kill somebody on the table? That's what we can do in season one.

TVF: I'm guessing Grace is going to see a part of the mob world and instead of being disgusted, there might be some really intoxicating elements, whether it's money or power or something else Is that accurate?
JB: Absolutely. What happens when she can't get reservations to a restaurant and she forgot to book something for Brett's birthday, but she walks in and she gets the best table because somebody knows she's connected to Constantine. That is seductive. Power is seductive. And then she says in the pilot, she quotes the famous 19-century philosopher, power corrupts and absolute power corrupts absolutely, but she doesn't think she's that person yet... but maybe she is.

TVF: And she's got the boyfriend in Brett (Zach Gilford) and then Franco (James Carpinello), who she has a history with, too. Do I smell a love triangle brewing?
JB: Well, she definitely gets thrust into situations with her ex-boyfriend and whether or not they get back together, we still have years of stories to tell. But I think that right now, [Franco] represents her past and Brett represents her future. But we all know that we get nostalgic. So, there's a chance that she could stray. We certainly aren't saying that Brett is her soul mate yet. Let's see how the characters fair with each other first and then…I'm a fan of Grey's Anatomy but I wouldn't write in my pilot that these two characters that sleep together, then they're going to be together. I want to give her more freedom and a little more modern twist on what a romantic life would be for hotshot, cardiothoracic female surgeon.

If she were a man, she'd have lots of sexual partners and girlfriends and all that through the course of the series. As a woman, somehow we're expected to believe that the first guy she looks at in a pilot is going to be her true love. To me, that's a very dated construct.

TVF: How much is her family going to play in the show? Will they become involved in this mob world? Mothers are usually smarter than we think…
JB: We're writing the show as if the mother probably knows everything and pretends to know nothing even to her own family. It's a woman who lives in denial, and we all know people like this that like this... mothers always know their kids' secrets. Even if mothers will accept the kids' secrets, there's plenty of kids that don't want to tell mothers the truth about what they're going through. So, in this story absolutely Maria (Wendy Makkena) has a sense of what her daughter is going through.

TVF: Is Grace going to have father figures in the show? Will William Forsythe become a father figure in a way?
JB: She has two father figures. One is William Forsythe, who plays Constantine Alexander, and the other is Zeljko Ivanek, who plays Doctor White at the hospital and it's kind of the good father and the bad father.

TVF: The Mob Doctor is paired on the Fox schedule after Bones. Not a bad place to be and you wrote for Bones early in its run!
JB: So, weird, right? My history on Bones…I was asked by Twentieth to go on Bones for six weeks during its second season and six weeks turned into four years because I loved it there. [Executive Producers] Hart Hanson and Stephen Nathan are two of my closet friends. They're great people. They're great writers, great show runners. I didn't want to leave. I was there four years, but I had to leave in order go show on Drop Dead Diva. When I was there, I introduced Hart Hanson to Carla Kettner and so she was there for fours years as well. Then when The Mob Doctor got picked up, I asked Carla if she would come over and join me on this show. There's a lot of crossovers between the two shows.

TVF: Could be a cast crossover? Both shows exist in the same kind of world, grounded in reality. Do you think about that?
JB: I love David and Emily so much so I haven't thought that through and they take place in different cities, but you never know. I'd be open to it. Why not?

The Mob Doctor premieres tonight at 9/8c following Bones on Fox. 

Jim Halterman is the West Coast Editor of TV Fanatic and the owner of JimHalterman.com. Follow him on Twitter.

Tags: Exclusives, Interviews, The Mob Doctor