The auditions are finally over, and if I haven't commended The X Factor enough on its second season already, I have to admit that this was the perfect length of audition episodes.
We saw a few more quality contestants, we witnessed a couple more train wrecks, and the judges got in a few more digs on Thursday night's audition finale. Now it's off to Boot Camp, but first let's relive the final X Factor auditions of 2012 with The Good, The Bad, and The Judges...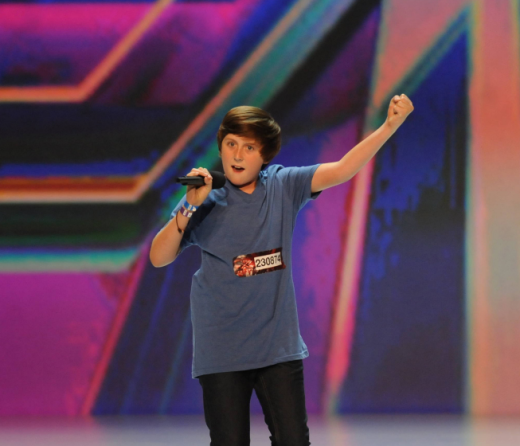 The Good
Owen Stuart: While I would put Owen's silly puppy love idea to try out for The X Factor in order to reunite with his girlfriend into the Bad section of this post, his performance definitely belongs in the Good. Honestly, has he not heard of an airplane? Or maybe a Google Hangout? Luckily for Owen, he was great with "Airplanes." His flow was some of the best I've seen on one of these competitions, and he has a singing voice to boot!
Freddie Combs: When he first began taking the stage, I thought Freddie belonged on The Voice because the coaches wouldn't take his appearance into account. Then I realized that he had a much better chance with judges that had to stare him in the face and realize all he had been through to send him packing. It really became moot though, because his booming voice was enough to win over The X Factor crew. His heartwarming story was simply icing on the cake. Although Simon wants to help him get better, I worry that his condition won't allow him to make it through an entire season of this.
Lauren Jauregui: The best pure singer of the night, and probably one of the best of the season, Lauren's "If I Ain't Got You" not only impressed her crying dad back stage, but it wowed the judges, the crowd, me, and I assume all of America watching. She's only 16? That is so surprising given how rich her voice is. She even killed that little hitch of falsetto in the chorus that so many have struggled with in the past.  
The Bad
Trevor Moran: Throughout this entire sequence - his intro from last week, the drama of him being sick to start this episode, his ridiculous performance, and then the judges' reaction to it - I was completely and utterly stunned. After finishing the performance, I paused the DVR, and had a million thoughts running through my head. Here are a few:
He either wasn't sick, or had a lot of time to recover before getting on stage.
The song was completely inappropriate for him to be singing.
I hated the entire performance.
Having said that, there were moments you could tell he had a good voice, which makes me angry that he chose a song that gave him no chance to show his voice and was so shticky.
I can't believe the judges not only put him through, but loved that performance.
Train wreck.
Jordyn Foley: What a way to start and then end the show! This was a complete joke right? Like there's no way these judges put Jordyn through because she was even halfway decent, correct? I'm assuming Demi, Britney, and L.A. decided it would just be a funny bit for the episode.  I may not have enjoyed Trevor's performance, but at least he could sing. Jordyn was off pitch through her entire song. You honestly could see something like that in any middle school in America, and in half of them you'd see something better.

The Judges

Simon's best quip of the night was the bit about someone sounding like they sat on two cats. Moreover, I'm glad they didn't overuse the whole Simon-being-mean thing this season. Everyone gets it. We've seen that song and dance before, so it's nice to see them use some restraint and just give it to us in quick segments.

As the auditions end, we get closer and closer to the live shows. As much as I have loved both of the new girls, I think Demi is really going to shine once we get to the live shows, but Brit might have some trouble. There's only so many times she can lean in and give her insanely cute "no" before it gets boring.

-----------------

So who's ready for Boot Camp? Which contestant from the first three weeks are you most excited to see in the next round? Who was your favorite from Thursday night? Which was your favorite (or least favorite) back story?

Dan Forcella is a TV Fanatic Staff Writer. Follow him on Twitter.

Tags: The X Factor, Reviews