The X Factor Season 2 Premiere Review: New Judges Rule
by Dan Forcella at .
I was really hard on The X Factor in its first season, mostly because it was a much more overproduced and less talented version of American Idol. Those two issues will need time to receive a full assessment, but after one night the addition of a pair of great judges made for a winning season opener.
After trips to Austin, San Francisco and Providence, Simon, LA, Britney and Demi saw a lot of talented singers, and as always, some that were anything but. Let's take a look at The Good, The Bad and The Judges.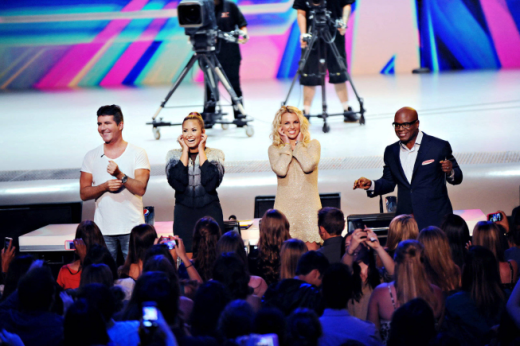 The Good

Paige Thomas: A 21-year-old nursing student with an adorable little daughter, Paige wowed the judges with her version of "I'm Going Down." She was a big Britney fan because they are both hot moms, but LA instead compared her to Rihanna so that he could drop that name for the first time of the season.

Reed Deming: Just 13 and he already has better vocals than the superstar everyone kept comparing him to. Honestly, just because you have the Alabama Swoop for a hairdo, it doesn't mean you have to be compared to Bieber. Others had that before him. Anyway, Reed's two songs were both very good, and honestly I was shocked Simon stopped his first one. I loved it.

Emblem3: This group of three skaters from Huntington Beach surprised the heck out of me.  With their surfer laid back attitude, I never thought they'd come out with so much energy on stage.  They certainly had enough going on in their original "Sunset Boulevard" to win over all four judges, but I thought the whole thing was way too unpolished deserve such high praise.  There's certainly potential there though.

Jennel Garcia: The girl that called a young Pat Benatar, Jennel was a joy to watch rock it out on stage.  Probably my overall favorite of the night, she had power, a nice tone, and eventually showed some serious range by the end of her performance. I like this one.

Jillian Jensen: Since I'm a Demi Lovato fan, I was completely aware of what was going on with the bullying references from the jump, but I can see how that whole situation would have been strange for a lot of viewers. Watching Demi and Jillian bond over their shared trouble, and everyone else in the building tear up over Jillian's performance, was pretty moving stuff.

The Bad

Shawn Armenta: His original "Candy Girl" was a funny enough of a performance for the 50-year-old, but when he started ragging on the judges for using auto-tune, it was time to leave the stage. A good dig by all means, but Demi and Britney aren't going to stand for that!

Kaci Newton: For all of the buildup they had with Kaci - the constant glances, a number of side comments before her performance - I was expecting something really terrible. That's why I was surprised at not only how mediocre her performance was, but that she didn't go completely psycho after getting shot down by the judges.

Quatrele Da'an Smith: This wedding dress wearing cake decorator made it through to the next round! Are you kidding me?!?! How was LA Reid the only sensible one in this case? Simon referred to him as the love child of Madonna, Bobby Brown and Dracula, but still gave him a yes? I don't get it.

Don Philip: This might have been the most heartbreaking moment of the entire night. To be staggeringly worse than the reunion of Xtina and Tony Lucca on The Voice last season may be something to be proud of, because this was awful. The dude sang a duet with Britney back in the day, and now he sounds like a broken washing machine. Watching Britney toil with listening to him screech and then saying no to him was pretty darn difficult. She handled it well though.

The Judges

Like I mentioned, I'm a fan of Demi Lovato. I like her music, and I loved her on Sonny With a Chance. I had high hopes for her as a judge since I learned about her spot on the panel, and this first episode did nothing to halt that enthusiasm. She didn't make any thrilling comments to the contestants, but she was short and sweet in her first appearance, and beyond all else she seems completely honest all of the time. I was expecting nothing less out of her.

The surprise was how good of a rapport her and Simon had right off the bat. The footage of the judges' green room was unbelievably entertaining.  Her convo with Simon about that kid from One Direction was nothing but charm. And then when she found out he cried a bit, her "Awww, you have a heart" was classic Demi greatness.

I didn't come in as a big Britney fan, but after one episode, I definitely am. I know it's a lot easier to come off as a good judge in the edited episodes, but that one montage of all her mean comments was just gold. It seems like she's going to be good at this. She might just have the right combination of honesty, cruelty, charisma, and likability.

Simon and LA weren't all that much different than what we've seen over the last decade and year, respectively. Although I never once wanted to slap LA through the TV, so he's improving already!

---------------------

The X Factor is back tomorrow with more auditions. For now, let us know who your favorite was on Wednesday night? Who was your least favorite?  What did you think of Demi and Britney as new judges? And do you miss Paula and Nicole?

Dan Forcella is a TV Fanatic Staff Writer. Follow him on Twitter.

Tags: The X Factor, Reviews
From Around the Web