The seventh and final season of 30 Rock began this week, and "The Beginning of the End" started the abbreviated run out with a bang. Classic one-liners and references were joined by a hilarious plotline that ended with Jack and Liz teaming up to tank NBC.
The idea that Jack - and now Liz as well - wants to tank NBC so that Hank Hooper will sell the company to the guy who makes the only successful Easter Egg dyeing company in the world is funny in and of itself.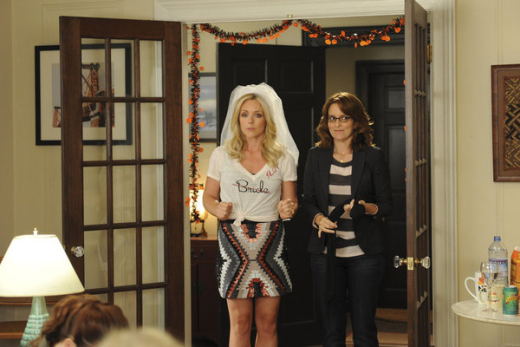 It also creates an atmosphere rich with opportunities for humor, like Jack coming up with ridiculous new shows for the network. God Cop may have had the most play here, but Homonym may have been funnier, and Tank It was certainly more idiotic.
The whole thing also gave Tina Fey the perfect meta moment, as Liz asked Jack how long NBC had been tanking it. Seven years? That's certainly how long the real NBC has a running joke within the television industry. It's always fascinated me how much NBC allows 30 Rock to criticize it. I know most of the time it's endearing, but sometimes it really takes a crack at its own network.
As always, the mile-a-minute speed of 30 Rock quotes and jokes made it possible for a number of memorable moments in this week's season premiere. Some of my favorites were:
Liz's extensive puzzle making over hiatus.
Thursday's on NBC are just going to be the informational channel you see in hotel rooms.
Tracy thinks Ken should get advice from an owl wearing glasses.
Tracy thinks second base with a girl is "a threesome with Robinson Cano."
"Thank you for saying that in dated urban slang."  Man, Tracy was on fire tonight!
It's Cricket Night in America!
Jack is good friends with Bane.
"Why is he learning anything? He's supposed to be God."
Unfortunately, they haven't quite figured out with to do with Kristen Schaal, because Hazel was annoying as ever while trying to use Tracy to get into the entertainment business.

Overall, though, it was a funny and promising start to the final season of 30 Rock.  What was your favorite part?  When did you laugh loudest?  And is NBC tanking in real life?

Dan Forcella is a TV Fanatic Staff Writer. Follow him on Twitter.

Tags: 30 Rock, Reviews
Want more 30 Rock?
Sign up for our daily newsletter and receive the latest tv news delivered to your inbox for free!
More From TV Fanatic
Evan, Paige and Bob confront Russel about his rug theft, while Divya and Jeremiah treat a woman desiring to be a mom. But were those all the surprises the Hamptons had to offer? Read our review of "I Didn't See That Coming" now!
On Chasing Life, Leo makes wishes come true. Elsewhere, Brenna meets her other sister, discovering one more family secret. Read on for more!
Join us for the One Tree Hill Rewatch of Season 1 Episode 4! Ready to relive the fun drama?
Power struggles ensue all around Chester's Mill on Under the Dome. Lives will be put on the line.
---