I've previously mentioned that we don't get to see the CSI team's romantic relationships often enough.
"It Was a Very Good Year" demonstrated my point perfectly, as having not seen or heard of Alison before this episode, I had no emotional connection to really feel Greg's loss. 
Then we had Szmanda's method of expressing loss, which was kind of quiet and reserved mood, (except for blowing up at Grazetti). This is a normal emotional reaction; it just plays a bit flat on the screen. So, between Szmanda's emotional reaction not projecting well and the the previously mentioned lack of attachment to Alison, I was left to fill in a few blanks.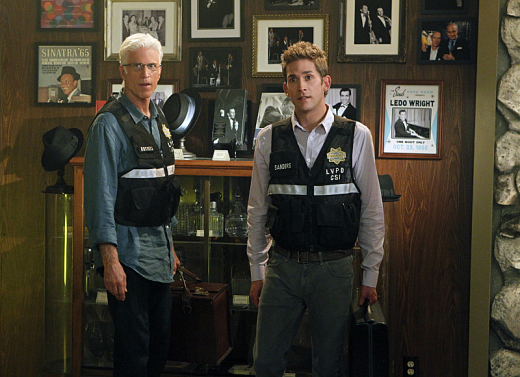 Thankfully, Morgan was there to help fill in the gaps. As the emotional story relayed through Morgan and her caring for Greg, I was able to get the attachment I needed to really feel the power of the final twist when Levitt casually announced that Alison had gotten the record a guy she really liked... Greg. 

I wondered if we were seeing the beginning of a relationship between Morgan and Greg. After she reached out and held his hand I was half expecting him to kiss her on the cheek as he left. Sadly, I'm still jaded after Wendy's departure and Hodges being left holding the bag, so I'm not doing any betting on office romances. 

Beside, it seems to be a rule that after you are shown in a relationship or being romantic, one of you has to leave the show. Just look at Grissom and Sara or Catherine and Vartan. 

Did it seem like we came up a bit thin on Stokes and Fin this week? They had one good scene that yielded one of the better CSI quotes, but they kind of disappeared after that. Sadly, if Sara was in a scene it wasn't memorable enough for me to remember it. Oh, wait, she commented on the boxes, that's right.

In fact, it felt like a three- man team with DB, Greg and Morgan being the primary people, but it worked out okay as CSI has always shined best when it uses the setting of city as a significant part of the story. This week the show went a step beyond that and made Las Vegas feeling like a living and breathing character, complete with some really good music and awesome history. 

After this episode I have to spend a little time listening to some classic Sinatra and Martin. Did the episode make you want to sample the Rat Pack? Sound off below, I want to hear what your favorite Rat Pack song is. 

Jim G. is a TV Fanatic Staff Writer. Follow him on Twitter.

Tags: CSI, Reviews