Elementary Review: Nemesis In Training
by Jim Garner at .
There must be some sort of hazing or rite of passage all crime shows go through where they must feature a story that utilizes the over-used trope of the "victim" actually being the mastermind behind the crimes.
However, even when I had a guess at what the twist was going to be on "Child Predator," it didn't diminish the overall story, as both Jonny Lee Miller and Johnny Simmons (Adam Kempler) did a fantastic job with their banter.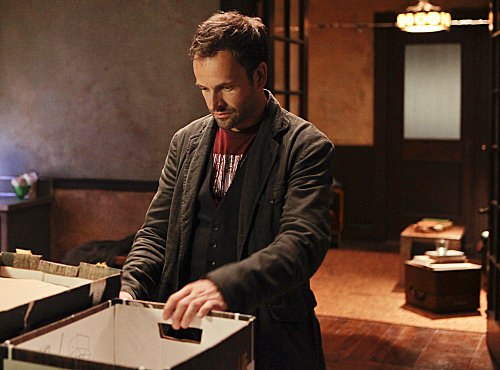 I wonder if we will see Kempler again. His foreshadowing that he will be out quickly certainly seems to hint at it. While he is no Moriarty, it would be a nice step that direction if Holmes had a second round with a character as smart as him. 

On the Holmes and Watson front, I loved how the latter was able to contribute a bit by showing Holmes how to stretch to stay away. I was a little worried at the beginning of the episode when he kept telling her not to talk; a big part of what I'm enjoying about this show is the two-way exchanges. 

Of course, all was right with the world by the end when she removed enough stimuli that he passed out sitting against the chair, just him and Angus. I know how he feels; I too seem to have two modes: full-speed and unconscious. 

Overall, it was a well done episode as it did a great job of showing how clever Holmes could be even against someone who got the better of him briefly. As the show begins to hit its stride, these are the episodes that become the meat and potatoes to help sustain it. 

So I wonder when we will get our next classic Sherlock Holmes character. A betting reviewer would say November Sweeps would make the most sense. That leaves the real question is who will it be: Irene Adler? Moriarty? Mycroft? Who do you think should be the next re-imagined character? Sound off below!

Jim G. is a TV Fanatic Staff Writer. Follow him on Twitter.

Tags: Elementary, Reviews
From Around the Web