I had two major concerns coming into the second season of Homeland:
Whether The Powers That Be could come up with a story as earnestly interesting as the phenomenal one they came up with to start the series.
Whether they could continue to jerk the viewer around as incredibly as they did in Homeland Season 1 now that he/isn't he question regarding Brody wasn't relevant anymore.
Through five episodes, it is obvious that the story telling has been just as tremendous, partly due to the fabulous risks they haven't taken in terms of pacing. And after watching "Q&A," it's clear the writers can get viewers all turned around no matter what the issue is.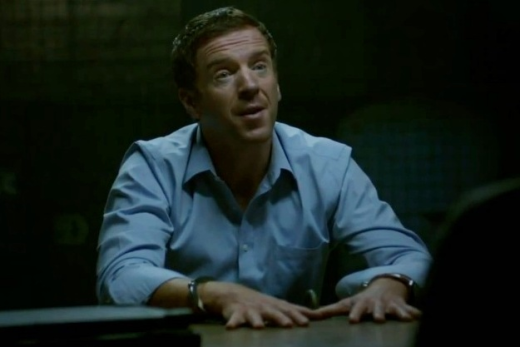 With something as seemingly simple as the interrogation of Brody, the series still managed to make me unable able to figure everything out.

At first I was angry Carrie didn't get to take lead, and then I quickly changed my mind because Quinn's calm demeanor intrigued me. I never saw his subsequent fit of rage coming, and thought to myself: 'Well they had to write that in so that Carrie would be able to get in on the interrogation.'

When it was revealed that Quinn was simply playing bad cop, it became obvious that a) he's really good at his job, and b) Homeland can misdirect the viewer at even the most unexpected times.

I would be remiss if I didn't confirm that not only was all of that interrogation incredibly written, but it was also unsurprisingly superbly acted. Those moments when Carrie and Brody were crying together? They were heart-pumping and heart-breaking all at the same time.

The more Carrie went on and on about how in love with him she was, the more I started to wonder how much of that conversation was performance and how much was straight up truth. I could be convinced of a lot of things at this point. Claire Danes is that good, and this character is that confusing emotionally.

Was she totally BSing Brody? Playing him with every word? Or is she truly that empathetic? Or that damaged? Were her feelings ever real? Are they still? The layered characters force us to ask that question and, best yet, the show itself will likely never answer them. There is so simple answer.

As great as all of it was, though, don't you think they could have gotten the same result by simply giving him the ultimatum at the very beginning? "We have this tape of you saying you are a terrorist, we can either take you to court or you can help us with Nazir."

Sure, getting him more emotionally drained and attached might help in getting him to actually work at assisting the CIA, but I don't think it was needed to get him to agree to that. But then again, maybe if Carrie hadn't reminded him about his true feelings for his family he wouldn't have cared if he took this thing to trial. Maybe.

Now that he is in, I am most interested to see what happens between Brody and Carrie. The fact that their cover is that they're having an affair should make things even more complicated. How will that play into their real feelings, especially Carrie's? Color me intrigued.

While all of that was going on, Dana also got into a bit fun. Well, she and Finn called it fun. I call it reckless driving and manslaughter. If that's what kids are calling fun these days, I'm glad I'm an old timer. Where's Xander with the pot when you need him, right?

What do you all think about what happened with Dana and Finn? What was your favorite part about the interrogation? And how darn good has Homeland Season 2 been?!? Sound off in the comments.

Dan Forcella is a TV Fanatic Staff Writer. Follow him on Twitter.

Tags: Homeland, Reviews